With over 2 million downloads every year, WordPress is one of the leading content management platforms. Due to high demand, server maintenance and administration tasks may take up some time, even more, if you are not familiar with the latest technologies. Going with a managed WordPress hosting provider will alleviate these constraints and save you some valuable time.  
As technology continues to evolve, companies are transitioning to managed dedicated hosting, as outsourcing infrastructure and vendor management have proved to be a cost-effective and reliable option as opposed to conventional data centers.  
But with so many options to choose from, finding a managed WordPress hosting company that suits your needs is like finding a needle in a haystack. To save you from this misery, I have curated an inventory of the best-managed WordPress hosting options.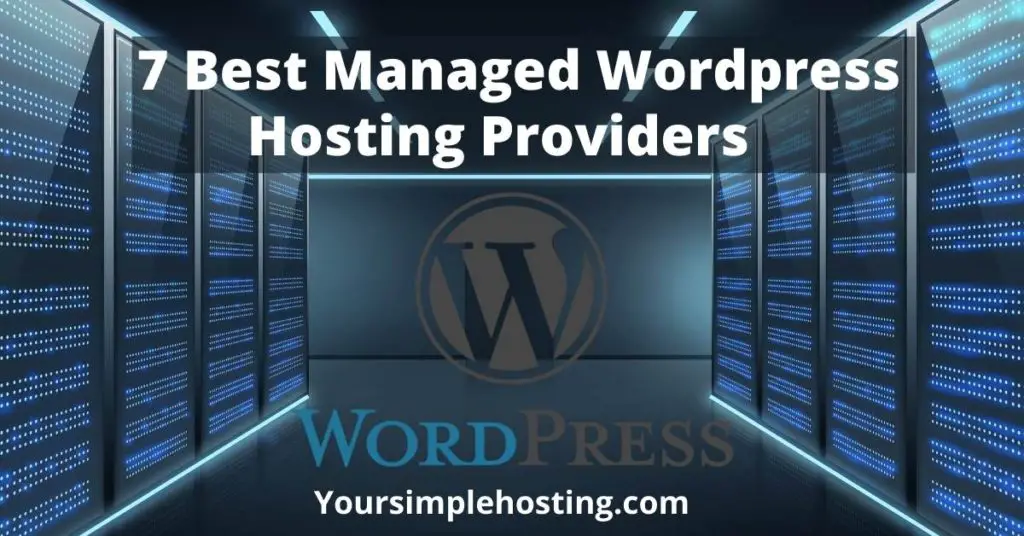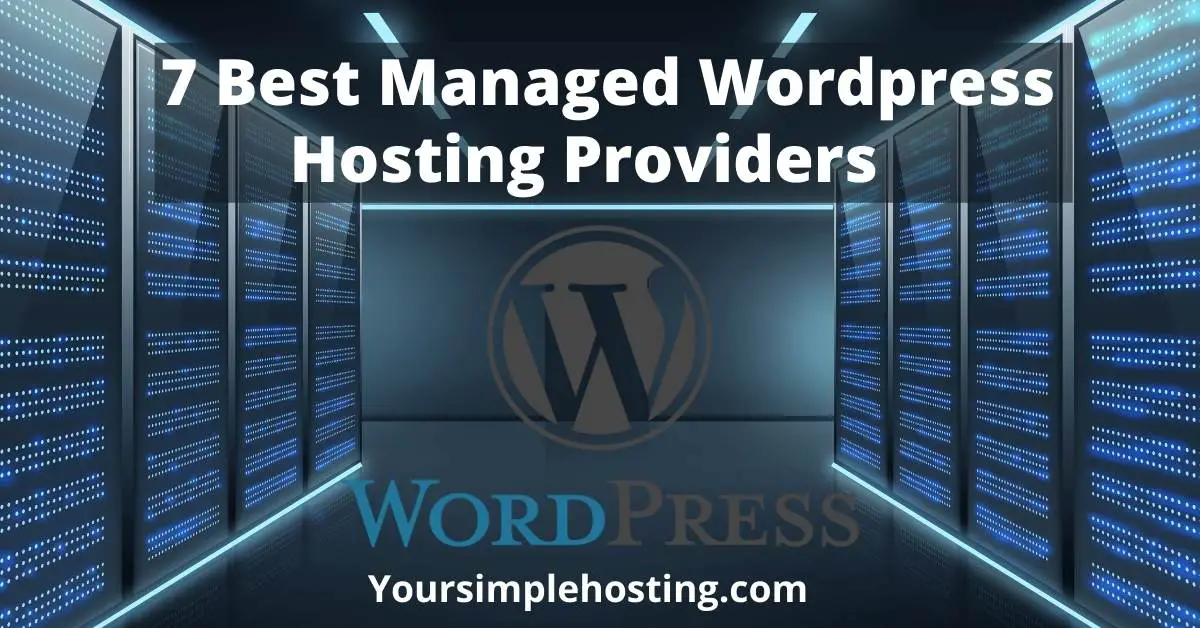 Best Managed WordPress Hosting Providers 
Best Overall Managed WordPress Hosting
Bluehost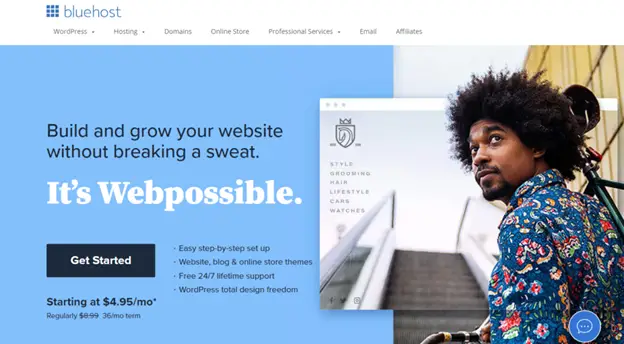 This is one of the largest web hosting businesses in the world and offers a broad range of hosting options for beginners as well as for small, medium, and big companies, all of which include 24/7 customer assistance. In 1996, Bluehost launched its first website and gradually developed into one of the world's biggest web hosting corporations. It currently serves as the foundation for more than 2 million websites around the globe.  
Pros:  
Their hosting options are well within the financial reach of the majority of customers, especially those who are just getting started. 
They can power a large number of websites with the smallest amount of downtime. 
No hidden costs when you sign up for your account 
When you join, you will get a free domain name for the first year. 
A free Cloudflare CDN and an SSL certificate are included with each website, allowing you to better protect your visitors and prevent viruses from infecting their computers. 
They provide a 30-day money-back guarantee on all of their services. 
Cons: 
The cost of their free domain renewal is greater than the industry average. 
During the registration process, they have an aggressive upsell approach. However, if you don't need any of the add-ons, you may just uncheck them all. 
Check out Bluehost's latest offers.
ScalaHosting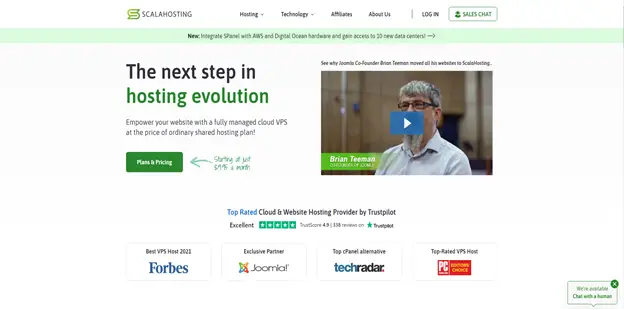 Founded in 2000, ScalaHosting has been in operation for more than a decade. Based in the United States, it has previously been recognized as a trustworthy hosting service. Today, their dependability is undeniable, but they have also made significant contributions to the field of innovation. ScalaHosting is remarkable for being one of the few companies that act as an innovator in the hosting industry.   
When selecting a hosting provider, one of the essential factors to consider is the amount of value you get for your money. ScalaHosting is a considerable service that offers not only flexible, feature-rich plans but also provides excellent value for the money. ScalaHosting makes it simple for new customers to get up and running as soon as possible with one-click installation, free migrations, and a 30-day money-back guarantee.  
Pros: 
Response times for customer support are lightning-fast. 
Plans with reasonable prices. 
Beginner plans with a lot of features 
Excellent uptime is guaranteed. 
For shared plans, white-label hosting is available.  
Cons: 
Renewals are subject to price hikes. 
WordPress support is kept to a bare minimum. 
Only a few server locations are available. 
Basic designs have a limited amount of storage space. 
Support resources are at a minimum. 
Check out Scalahosting's latest offers.
Best Managed WordPress Hosting For Beginners 
ChemiCloud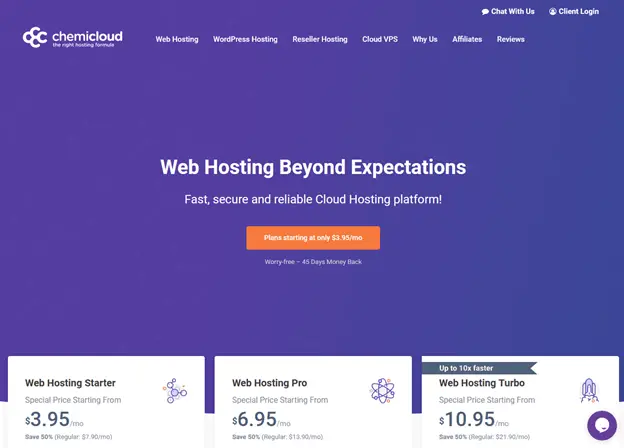 ChemiCloud is a web hosting business that provides a variety of hosting services, including shared hosting, WordPress hosting, reseller hosting, and virtual private server (VPS) hosting. The business is a relatively young participant in the market, and it has not yet achieved broad recognition.  
The WordPress hosting services offered by ChemiCloud are all equipped with solid-state disks (SSD) for data storage. Those unfamiliar with SSD storage should be aware that it is essential to the performance of your website and even to the reliability of your server's response time. ChemiCloud runs on the Cloud Linux Operating System that is known to be highly safe and secure. The ChemiCloud account dashboard is accessible once you purchase a plan and create an account with the company. The dashboard provided is well-organized and easy to use. 
Pros: 
Guaranteed uptime of 99.99 percent SLA or full refund 
If you are dissatisfied with your purchase, you have 45 days to return it. 
As long as you are a client, you will get a free domain for life. 
Solid State Drives are available in all of thier hosting plans. 
Live chat is accessible 24 hours a day, seven days a week. 
Free SSL, Cloudflare CDN, and migration are all included. 
They have a drag-and-drop website builder. 
Cons:  
A two-year or one-year commitment is compulsory. There are no lower-cost plans available.  
The starter package does not provide sophisticated firewall protection. 
Memcached and Cloudflare Railgun are only available on the Turbo plan. 
There is no knowledge foundation. Therefore, there is no self-help.  
Because ChemiCloud are new to the market, they have a low degree of trust. 
Very high prices on renewal. ChemiCloud do run 50% discount for life offers, recommend you check on their site.
Check out ChemiCloud's latest offers.
TMDHosting  
TMDHosting is a web hosting provider that is both flexible and reasonably priced. Its services range from low to high cost so that businesses of all kinds or scales can enjoy their services. Their higher-tier services are a bit costly, but they do provide the customer with more powerful dedicated hosting services. TMDHosting provides a variety of features, such as live chat customer support, unlimited bandwidth, and unlimited storage. Customers also get free domain names and limitless email accounts along with the plans.  
TMDHosting provides excellent customer service that enables customers to know more about their diverse range of services. Which are very safe and, due to its compatibility with the Weebly website builder, TMDHosting functions as an all-in-one solution. Furthermore, TMDHosting has demonstrated excellent results in terms of the speed offered due to its top-tier data centers. 
Pros: 
TMDHosting provides cheap hosting packages with a variety of tiers.  
Specialized hosting packages are available.  
TMDHosting does not charge you for backups and restoration, spam protection, or a domain name. Instead, these services are provided to you for free. 
In addition to providing assistance 24 hours a day, the customer support staff also guarantees a response time of 15 minutes or less for all inquiries. 
Comes with a 60 days money-back guarantee. 
The customer feedback for this web hosting provider has been overwhelmingly positive. 
Cons : 
The company holds fewer reviews compared to other web hosting providers.  
Check out TMDHosting's latest offers.
Best Managed WordPress Hosting For Service
Hostwinds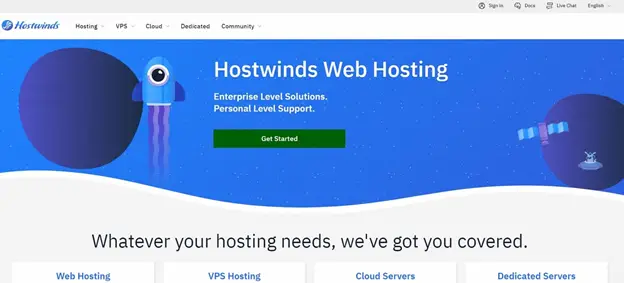 This is a robust hosting service that provides an array of unlimited cloud dedicated hosting packages. They have multiple plans which offer monthly data transfers and unlimited disk space with all options. In terms of uptime, this alternative will give you complete reliability along with ticket-based customer support in case you hit any snitches.  
Their control panel is quite modern-looking, intuitive, and can be easily navigated. They also provide free SSL certificates and unlimited accounts with their hosting plans regardless of the plan you choose.  
Pros: 
Impressive uptime.  
Affordable reseller plans.  
Fast and knowledgeable customer service.  
Dedicated servers that can withstand high traffic volume  
Cons:  
The money-back guarantee window is short compared to other services.  
The cPanel needs a few more tweaks in order to run smoothly.  
Check out Hostwinds latest offers.
Fastest Managed WordPress Hosting
A2 Hosting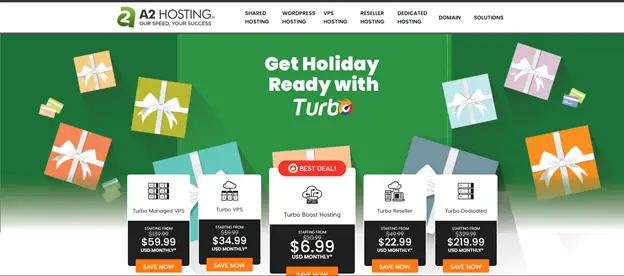 A2 Hosting has been in business since 2001, and they are most recognized for the speed with which their hosted websites load. Apart from that, the uptime of A2 Hosting's servers is very high, making their hosting service dependable. A2 Hosting offers a wide range of choices to get your site up and to operate quickly. 
If you are acquainted with search engine optimization (SEO) and the ranking criteria Google employs to determine where your site appears in search results, you know that site speed is a critical component in achieving better ranking and boosting traffic and income for your business. The fact that A2 Hosting places speed at the center of all of its offerings is a significant way in which it distinguishes itself from other conventional web hosting solutions. 
Pros: 
Exclusive global web servers offer you a 20x speed advantage over competitors. 
In case of technical problems or outages, 24/7 live assistance is quite useful. 
A2 Hosting supports WordPress, Drupal, Joomla, Magento, and OpenCart.  
Free SSL certification. 
A2's 24/7 monitoring function will notify you of any efforts made to hack your site. 
Any hosting plan you select, A2 includes a free Cloudflare CDN for additional speed and loading times. 
A2 offers carbon-neutral hosting, which means all of their servers are certified carbon-neutral.  
A2 can handle website traffic with a range of hosting packages that are all designed for speed. 
Cons: 
A2's hosting plans go up in price when renewed. 
It doesn't provide a free domain.  
Check out A2 Hosting's latest offers.
Most Affordable Managed WordPress Hosting
Hostinger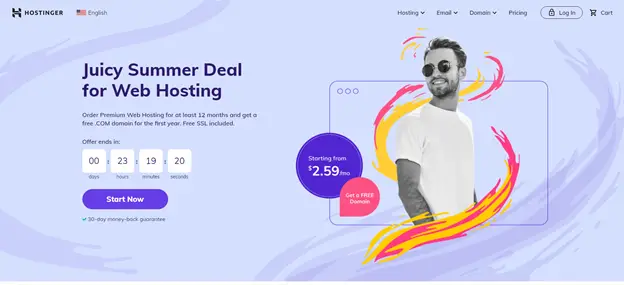 This is a user-friendly web hosting service that gives you all the necessary features without breaking the bank. If you are limited on the budget front, then this is the option for you. With servers powered by LiteSpeed and Php7, speed and uptime will be the least of your concerns.  
With their latest update, users get a built-in caching facility with their hosting. The control panel software is also pretty easy to use and navigate through. For security, they equip their plans with SpamAssassin and Cloudflare protection. SSL certificates and Bitninja smart security will also keep the hackers at bay.  
Hostinger understands the value of a straightforward and bloat-free UI. They provide a free guide that contains information like video tutorials and walkthroughs to help you get accustomed easily.  
If you are someone who relies on email tools and wants a good price-to-performance ratio, then this is the choice for you.  
To top it all off, they also provide a free domain with their WordPress hosting plan along with a 30-day money-back guarantee.  
Pros: 
All packages come with SSL certificates and Cloudflare CDN, which helps in enhancing security.  
Their servers utilize a 1000 Mbps connection, which can translate to fast site load times.  
Clean UI and large buttons make navigation a breeze.  
They offer website building plans that can be taken up by anyone, even if they have no prior coding knowledge.  
They have embedded autoresponders and email forwarding bots in their set of tools.  
They have an exemplary uptime record.  
Cons:  
Their customer support base is not well-rounded and usually takes up to a few minutes to respond. Additionally, you must always be logged in if you want to access the live chat option. 
The absence of a cPanel may annoy some advanced users.  
If you make any hosting payment after your free trial or conduct any domain transfers, then you will not be eligible for the 30-day refund.  
Check out Hostinger's latest offers.
Are Managed WordPress Hosting Services Right For You?  
Due to increasing demand, many companies have now started providing specialized plans for WordPress website owners. They also provide additional perks like security updates, automatic backups, and general maintenance.  
| | |
| --- | --- |
| Pros  | Cons  |
| These hostings are explicitly tailored for your website and guarantee fast performance.   | They release security updates without any prior notice, which might get in the way of various plugins.   |
| They have an active security layer that keeps searching for malware in real-time.   | A managed WordPress hosting will cost you more than a shared plan. However, the functionality is worth it.   |
| Site updates are conducted relatively easily. You can also restore points if you want to downgrade to another version of your website.   | Managed WordPress hosting always block the plugins that may be slowing your website. The email handling capabilities of WordPress hostings are not very efficient.   |
Note: If you are a small-scale business owner, then WordPress hosting can smoothly cater to all your daily needs. However, if you are a moderate to large-sized business, then you should also consider getting a WP host.  
Things To Consider Before Purchasing Hosting Services 
Support 
Immediate support is necessary when running an online business. Check if the hosting offers you 24/7 access to a support team to solve your queries. Furthermore, many dedicated hosting providers charge you for opting for your management through cPanel Plesk. This is something that isn't encouraged, as you can get it for free using the top hosting companies.  
Security 
Handing your data to your online provider necessitates a need for multiple layers of security. This will keep you safe from hacking and will also enable one-click disaster recovery.  
Uptime And Downtime  
Go for managed services that guarantee 99.99% uptime. Losing potential customers/visitors due to slow loading or a website that is down is the last thing you will want.  
First Time Purchase Vs. Renewal Cost 
If you don't want to fall into the marketing trap of high hidden costs, then checking the first-time fees and comparing them with the renewal fees is a good idea. What many companies do is provide you with their service for a discounted price in the beginning, but don't show full transparency while showing renewal costs.  
Conclusion 
Not only will these services help you meet your storage and bandwidth requirements, but they will also enable you to scale your business without any lags. That being said, hosting providers may try to sell you unnecessary features as add-ons. To safeguard yourself from this, have a clear list of your requirements ready. Additionally, I recommend you look for features like pre-installed and pre-configured sites coupled with built-in plugins to facilitate easy caching.