Google does offer some hosting services. However, in the current digital landscape, finding a website hosting service that is efficient and reliable for businesses and individuals is more important than ever.
In this article, we'll look at what Google offers in terms of web hosting and if their services suit your requirements.
So, whether you're new to the world of web hosting, or are simply looking to find out whether or not you can use Google for your website hosting, then this article will provide you with all of the information you need!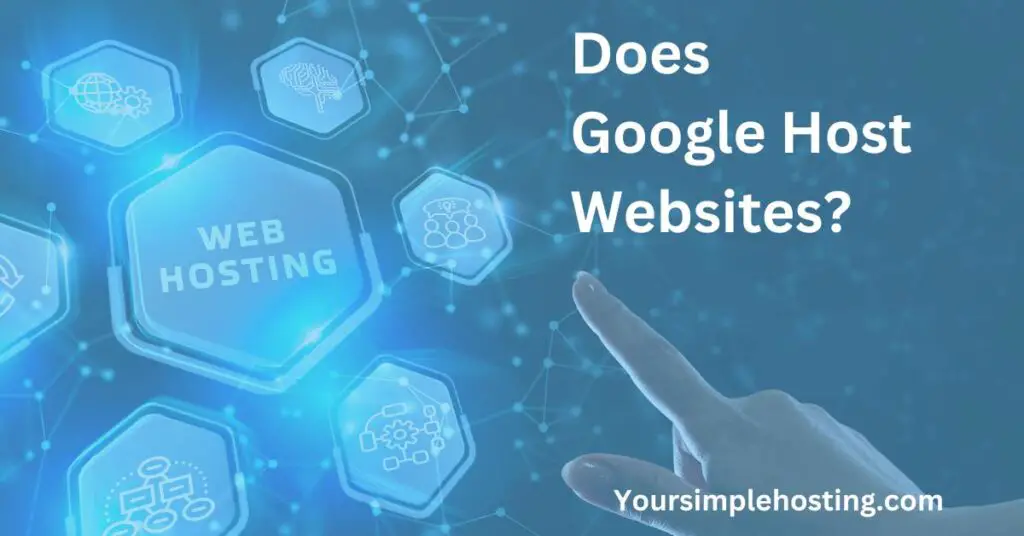 Table of Contents
What Is Web Hosting? 
If you're unsure of what web hosting is or just need a reminder of what it means, this section is for you, as we'll cover all of the basic information you need to know about web hosting. 
Web hosting is essentially the process that allows things to be stored online so that they can be accessed and viewed by other people. For example, businesses use web hosting in order to make their products available to potential customers online. 
People are able to access the website files by simply typing the name into a search engine and clicking on the link for the website, where the hosting provider must then bring up the right files and show them to the visitor. 
The web hosting provider must ensure that the servers on which the files are stored are connected to the internet and available 24 hours a day, 7 days a week, so that anyone, anywhere, is able to access the website. 
As you can imagine, finding a reliable web host provider is extremely important for anyone looking to build a presence online, as they need to be able to handle important server maintenance, security, and technical issues as soon as they happen. 
Many types of web hosting services are available from different providers, including cloud hosting, dedicated servers, and virtual private servers. 
Picking a web hosting provider is difficult and requires a lot of consideration. The ideal provider is fast, reliable, has great options for scalability, and provides excellent technical support. 
When it comes to picking reliable companies, many people often wonder whether or not Google provides website hosting services, especially since they're such a large name in the tech industry. 
Unfortunately, Google doesn't operate as a web hosting provider but provides some web hosting services through the Google Cloud Platform. We'll talk more about it in the next section! 
For a more in-depth look at web hosting, read our other article What is Web Hosting and How Does it Work?
What Is Google Cloud Platform?
Google does offer some hosting services through its innovative Google Cloud Platform, which is a comprehensive cloud computing platform that is able to provide a variety of different services to people, including storage, infrastructure, databases, and of course, hosting. 
There are many different features that make Google Cloud Platform an enticing choice for anyone looking for reliable hosting services, so if you're currently looking for a platform that is going to help you find the best provider for your website, then it's worth familiarizing yourself with what they have to offer. 
One of the biggest features of GCP is the immense infrastructure it has, allowing you to access some of the best data centers around the world to ensure a great-performing website with very little downtime, which can have a huge impact on your ability to be found when searched for on a browser such as Google. 
Another feature that many people like about GCP is the integration with other services and products that Google currently provides, such as Google Analytics, Big Query, and more, which means that you'll be able to make use of these tools to help drive your website's prominence. 
The most important aspect of this service is just how easy it is to deploy a new web hosting solution when using GCP. This is all thanks to the huge variety of hosting solutions that Google offers, which help make getting started even easier. 
Pros And Cons Of Google Cloud Platform
There are plenty of advantages when it comes to utilizing GCP to help you get up and running with hosting your website. Still, there are also some disadvantages that are worth considering before you decide whether or not GCP is going to be right for you. 
Pros 
There are a lot of great features to explore, probably too many to delve into here, but we've decided to highlight some of the best aspects of GCP to help you understand why so many people decide to use this service. 
Infrastructure – GCP's huge network of data centers helps to ensure that your website's uptime is high and that people are able to access your site worldwide 
Scalability – The on-demand resources and integration with other services allows you to grow and scale your website to accommodate growth and interest spikes 
Security – GCP provides plenty of robust security measures to help sure your data files are kept secure, including DDoS protection, firewalls, and encryption. 
Cons
Despite all of its benefits, there are some downsides to GCP, and although they might not affect everyone, they're worth taking into consideration when choosing whether or not to use the service. 
Cost – Cloud-based hosting is much more expensive than traditional hosting methods, so while it's easy to set up for newcomers, few are able to front the cost. 
Customization – Despite the range of GCP products that can be integrated, customization as a whole is relatively low, which might restrict what you're able to accomplish. 
Proprietary – Because GCP is a proprietary service model, if you ever decide to leave, it can make doing so especially difficult, which could halt interest and visitors. 
Conclusion
Google doesn't directly offer a website hosting service, but Google Cloud Platform does help to provide the right services to find the right provider for you and to get your website going as soon as possible.
It's now down to you to decide whether or not it's right for you and your website plans!