Wix is a powerful software company that provides cloud-based web development services.
Does Wix host websites? No, Wix does not host websites in the traditional sense. Wix is a website builder platform that allows users to create and design their own websites using a variety of templates and tools. However, Wix provides hosting services as part of its platform. When you create a website on Wix, your website's files and data are stored on Wix's servers, and Wix takes care of the hosting infrastructure for you.
The primary aim of the platform is to help anyone and everyone have access to the tools they need to build professional-looking websites.
If you're relatively new to the world of web development, that might be all you know about this popular platform.
If that's the case, you're probably left with questions like: What does Wix do, and does Wix host websites?
If you do have those questions, you're in the right place. In this post, I will tell you what Wix is, what it does, and whether or not the platform offers website hosting.
If you're considering using Wix or simply want to know more about what it offers, stick around!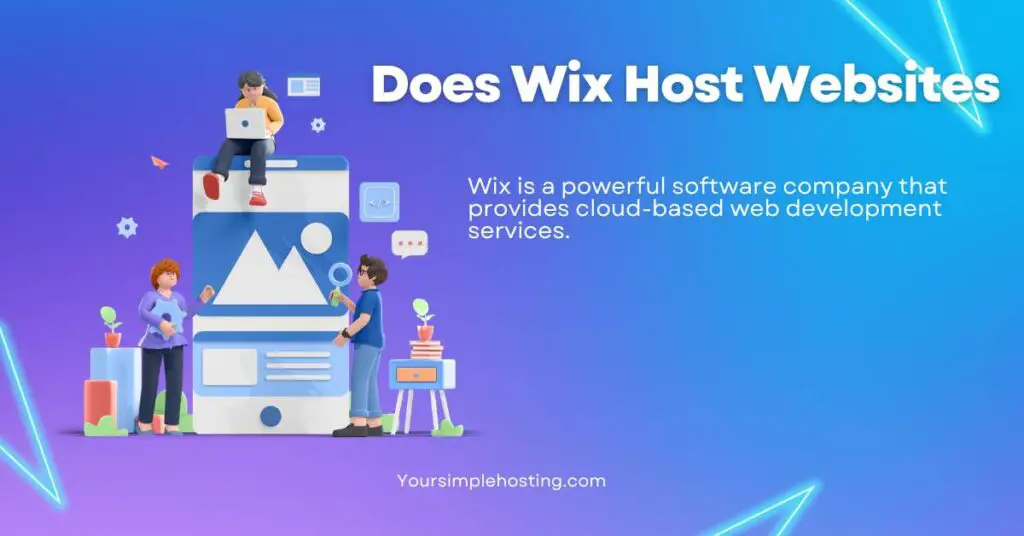 Table of Contents
What Is Wix?
Let's start by taking a closer look at what Wix is. Wix is an Israeli software company that was founded in Tel Aviv in 2006.
By providing cloud-based website development services, this company makes it possible for people worldwide to create websites.
Wix allows users to create high-quality, professional-looking mobile sites and HTML5 websites using a neat drag-and-drop website builder.
Using Wix, we can build and scale our websites with confidence.
What Does Wix Have To Offer?
So, what exactly does Wix have to offer you? Well, it would probably be easier to tell you the things Wix doesn't offer, as this platform is jam-packed with features and tools.
Wix prides itself on offering three things. Those three things are:
Unlimited creation
A place for growth
Powerful infrastructure
With Wix's powerful platform and a vast array of neat tools, users can build their first website, take their business online, open an online store, and so much more. To put it simply, Wix offers the ultimate website-building platform.
So, Does Wix Host Websites?
We know Wix helps us build websites but what about hosting? Well, it probably won't surprise you that Wix offers website hosting services as part of their packages. They don't sell Web hosting as as service
In fact, one of the best selling points of Wix is that it offers users free website hosting.
As a result, this web hosting platform provides users with everything they need to create, publish, and run their own websites.
What Is Web Hosting?
Let me quickly explain if you're unsure what web hosting is. Web hosting is an internet service offered by web development companies and web hosting providers.
While it might sound confusing to some, web hosting is essentially a service that makes your website visible online.
By offering web hosting, companies like Wix give their users more time to focus their efforts on important things like website appearance and content.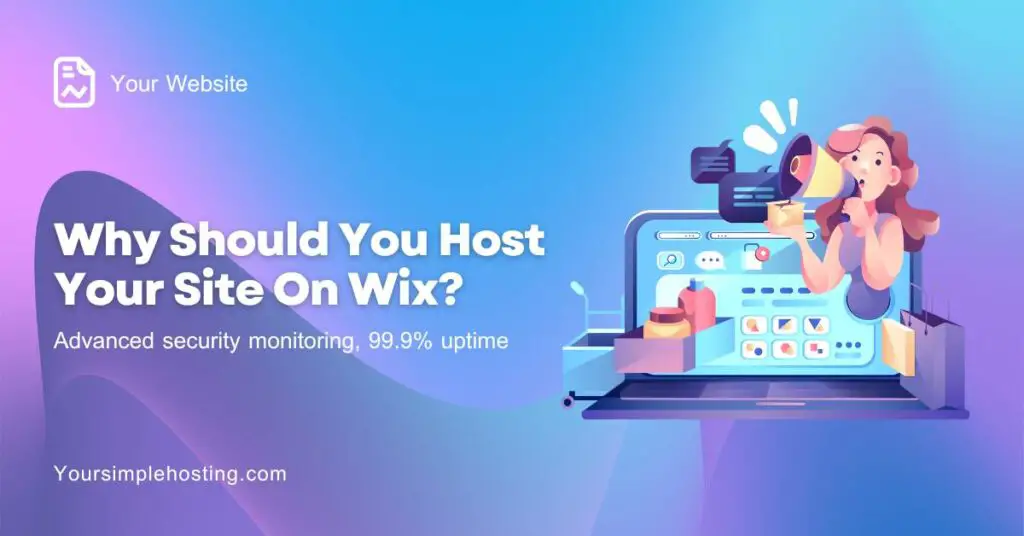 Why Should You Host Your Site On Wix?
Deciding where to host your website can be challenging, especially if you haven't created one before.
There are lots of things to consider when making your decision.
However, Wix makes a very good case about why we should choose them. For starters, the fact web hosting is included for free is a great touch.
After that, there are a range of different features that make Wix a worthwhile contender.
Wix offers users web hosting that includes:
Advanced security monitoring
99.9% uptime
Automatic setup
24/7 security
HTTPS and SSL protection
DDoS protection
All of these things make Wix one of the best website hosts on the market. All we have to do is focus on designing an attractive website.
Where Does Wix Host Websites?
When it comes to where Wix will host your website, the possibilities are endless.
Wix has servers worldwide, including in the United States and Europe. Wix even has backup servers worldwide.
This technology makes it possible for Wix to host sites that are viewed globally. As you would expect, this can lead to increased engagement, which in turn can grow a business.
Does Wix Offer Free Domain Names?
The company offers a free one-year domain name voucher with premium plans for website creators who want to purchase a new domain using Wix.
This voucher can be used to purchase your new domain name free of charge.
However, after the first year, you must pay the regular price for your domain name.
None of the basic plans offer this voucher. You will instead have to pay for your domain name upfront.
What Happens If You Already Own A Domain?
If you own a domain but still want to use Wix website hosting, you'll be pleased to hear that you can.
A domain you already own from another domain registrar can be connected or transferred to Wix. Transferring a domain over to Wix makes Wix your new website host.
Wix makes the changeover as easy as possible, and you can easily manage your DNS settings and registration payments directly from your Wix account.
Frequently Asked Questions
Does Wix Offer Self Hosting?
Yes, Wix does offer self-hosting. For your Wix website to work properly, it needs to be hosted and operated on Wix's server. However, you can connect your domain to a Wix site and manage it with another provider.
Is Wix Better Than Bluehost?
No, Wix isn't better than Bluehost. Most people consider Bluehost to be the better of the two because it offers advanced customization options.
Final Thoughts
That concludes this post looking at Wix and its web hosting services. In this post, I've told you that Wix does host websites.
I've also explained what Wix is, what it offers, and why you might want to host your website using the platform.
Now you know more about Wix and its offer, why don't you decide if Wix is the best platform for your website?