A VPN, or Virtual Private Network, allows you to securely connect to a network remotely to access blocked or restricted content.
One of the common uses for VPNs is to play online games that are unavailable in your region. It also prevents ISPs (Internet Service Providers) from throttling the bandwidth so that you can enjoy your online gaming experience.
It also allows you to protect your online privacy and gain more freedom while gaming. But just like most gaming consoles, Xbox doesn't offer native VPN support.
So, let's discuss how to get VPN on your Xbox to allow you to enjoy all the benefits a virtual private network offers.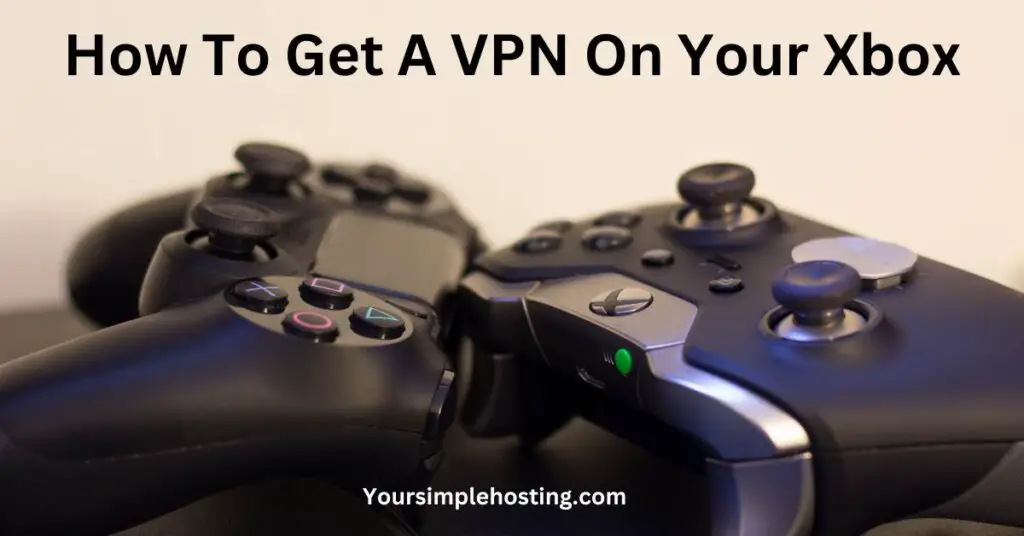 Setting Up a VPN on Xbox
Whether you have Xbox One or Xbox Series X/S, you can use any of the following methods to set up a VPN on your console.
Install VPN on Your Home Router
Installing the VPN on your home router is the easiest way to securely game on your Xbox console. But first, you'll need to choose a VPN service and purchase a subscription based on your needs and budget.
Keep in mind that many VPN services are available in the market, and not all are equal. Therefore, make sure you opt for a renowned and trusted VPN provider with servers worldwide.
After that, you can use the steps listed below to complete the process.
Step 1: Access Your Router's Control Panel
Enter your router's IP address in a web browser (using a computer, tablet, or smartphone) and hit enter to access its control panel. If you don't know your router's IP address, consider contacting your internet service provider.
They'll provide the address and login details you need to access the control panel. You can also check your router's documentation to find this information.
Step 2: Go to WAN Setup
The next step is to find the page in your router's control panel with settings to manage your connection to the outside network. The name of this page/tab varies depending on the router's model.
But generally, it's denoted by "WAN Setup," "Network," or "Basic," and you can find it in the settings or setup page.
Step 3: Enter VPN Details
Once you're inside the WAN setup page, you'll need to enter your VPN details, such as Subnet Mask, IP address, DNS address, username, and password. You'll receive this information once you sign up for the VPN service.
Keep in mind that the particulars can vary from service to service. So, ensure that you follow your VPN provider's instructions to set up your router.
Step 4: Connect Your Xbox
If not connected to your home network, turn your Xbox console on and go to the settings page. Next, select the "Network" option and choose "Set Up Wireless Network." The console will show you a list of networks detected in your area.
You'll need to select your wifi connection and enter the correct password to connect your Xbox to the router.
Important Note: If you have an ethernet cable, you can use it to connect your console to the router, as it'll provide a more stable connection, which is essential for online gaming.
Connecting a VPN-Enabled Computer to Xbox
Whether you have a Mac or PC, you can use it to set up a VPN service on your Xbox. However, the disadvantage of this method is that you'll need to keep your Xbox connected to the computer and both devices running.
Otherwise, the VPN won't work on your Xbox to ensure private internet access.
Additionally, your computer will also need to have two network adapters, where one will be used for the internet and the other for the Xbox console. So, if you don't have two adapters, the following method will not work. An old laptop with wifi and an ethernet port will also work.
First, you'll need to download and install the VPN client on your Windows PC or Mac. Then, you'll need to turn it on using the instructions provided by the service provider.
Once the virtual private network is up and running, the next step is to connect the console and computer using an ethernet cable.
Enabling Internet Sharing Using Windows Computer
Here's a list of steps you'll need to follow to set up a VPN on your Xbox using a Windows computer.
Click on the start menu and type "Control Panel." You'll see the "Control Panel" app you need to open.
Click on "Network and Internet" if you're viewing by "category," and then select "Network and Sharing Center." Whereas, if you're viewing by "Large icons" or "Small icons," you'll be able to select "Network and Sharing Center."
Select "Change adapter settings" and right-click on the VPN connection that you installed on your computer.
Click on "Properties" from the menu and go to the "Sharing" tab.
You'll need to select the option "Allow other network users to connect through this computer's internet connection."
The dropdown menu, located right below "Home networking connection," will become unblocked.
Click on this menu and select the ethernet connection of your Xbox.
Click "OK" to apply the selected settings.
Enabling Internet Sharing Using Mac
If you have a Mac, you can use the following steps to set up a VPN on your Xbox.
Click on the Apple symbol from the upper-left corner.
Go to "System Preferences" and select the "Sharing" option.
Click on "Internet Sharing" from the list on the left side of the screen, and it'll open up a dropdown menu.
Select "Share Your Connection From" from that menu and click on your VPN connection.
It'll open another dropdown menu right below "To Computer Using."
Click on "Ethernet" and check the box located right beside "Internet Sharing" to apply the selected settings.
Test Internet Availability on Xbox
Power up your Xbox and go to "Settings."
Tap on "Network" and select Network settings.
Now, select "Test network connection," and your Xbox will connect to the internet.
Conclusion
Setting up a VPN on your Xbox is a great way to access online games from any location and maintain privacy while gaming online. I hope this guide gave you a thorough understanding of how to securely and privately access online games through a VPN on Xbox.
It's essential to conduct proper research and consider factors such as the provider's server count, server locations, connection speeds, and privacy policies. It'll help you choose the best VPN service for an enjoyable gaming experience.