While WordPress offers default homepage displays and even comes with a WordPress theme, these don't work for everyone.
Whether you're looking for a different design, rebranding your business, or want a tailored page, creating a custom homepage can bring your many benefits.
You can create a custom homepage in WordPress in a few simple steps for your static and dynamic blog pages just by accessing the Pages option in the Menu after logging into your WordPress dashboard admin area. Using a static page for your home page will provide you with more customization.
Read on to learn how to create the page that sets the right tone for your WordPress website.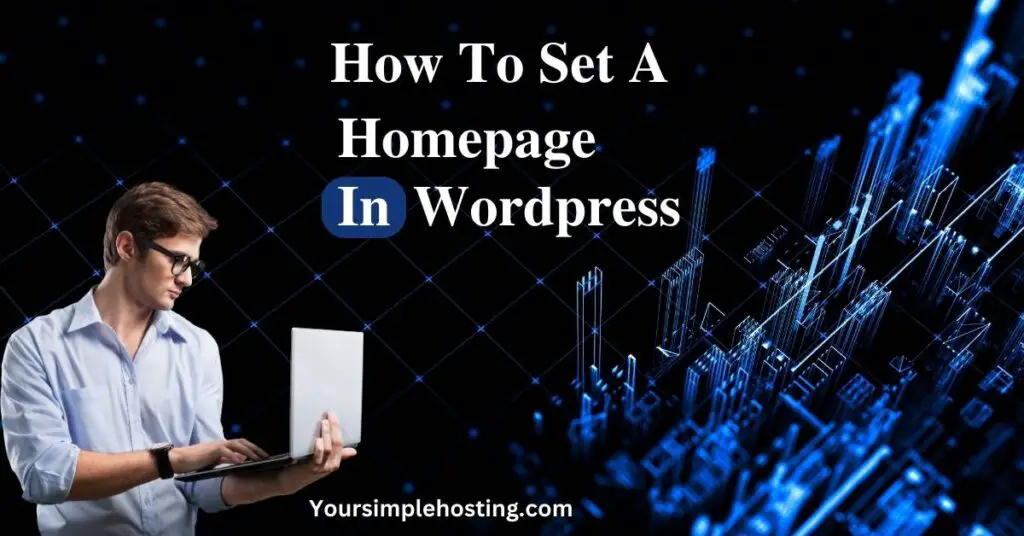 Table of Contents
Setting Up a Static Page or Dynamic Blog Page
Since most WordPress websites start as a blog, as default, WordPress displays the latest blog posts on a home page.
Setting up a static front page allows you to display your preferred content. However, this doesn't mean you'll lose your blog posts. Most custom homepages are static, and you can show your most recent blog posts on a separate, dynamic page.
You can also do this if you still want to keep your latest blog posts on your home page. First, take a look at yoursimplehosting.com home page. You will see both static and dynamic content.
The difference between static and dynamic pages is that the former always stays the same. This is crucial if you're trying to establish a business or rebrand your website into an online business.
A static page will provide the consistency your potential clients seek in a business they want to trust. For example, it will help if you decide if you wish to feature blog posts, a blog roll, or pages on your WordPress homepage.
Blog rolls are articles presented chronologically, while pages appear without another. Their purpose is to provide fresh content, unlike static pages that tend to be more general.
Below you'll discover how to set a homepage for a static homepage and a dynamic blog page.
How to Set Static Homepage in WordPress
Create a Static Page
Since the default homepage with your WordPress theme contains your blog post, you'll need to create a separate page to replace it.

Here is how to create a custom homepage in WordPress:
Log into your WordPress admin dashboard and locate the Pages option.
Click on the Add New button to create a different WordPress page.
Name your new page and add the content you need.
Click the Publish button to save changes, and your new WordPress homepage should be displayed.
Set up a Placeholder
Now that you have created your WordPress homepage, you'll want to display those blog posts somewhere (unless you want to delete them because you don't plan to have a blog anymore).
Creating a placeholder for your old posts page is optional, but since it's just as easy as it is to set a home page, it's worth doing.
Here is how to do it in a few simple steps:
Follow the first two steps from the previous set of instructions.
Name the placeholder page (use a name that reminds you that it's your blog page).
Press the Publish button to set up this page.
Make the New Page your Homepage
As your last step, you'll need to configure WordPress so you can set your static page as your homepage. You can also set up your blog page by displaying your blog posts on your blog roll page.
Here is how to set the home page and the blog page:
Click on the Settings button and select the Reading option on your dashboard.
You'll find an option to set the homepage display to Static Page on this page.
Select the page you initially created as your WordPress homepage from the dropdown menu under the static option.
In the second scrolling list, under the first one, choose the placeholder blog page as your posts page.
Click Save, and both of your pages will now be set.
Here is an alternative way of setting the home page:
Go to the Appearance menu, and select the Customizer Tab.
In the Customizer Tab, click on the Homepage Settings option.
In the Settings tab, select the Reading option.
Set your homepage displays to Static.
Find the page you want to make your WordPress homepage from the dropdown menu.
Click the Save button to keep the changes you've just made.
How to Set a Homepage for a Dynamic WordPress Site
If you want to keep your blog page as your WordPress homepage, but want to change your basic homepage design, you can do it by making a dynamic blog post page.

Here is how to do it:
Go to the "Pages" menu in Settings.
Click on the "Add New" tab.
Design a dynamic homepage layout based on your requirements (optional).
Click on the "Publish" button.
Go to the "Settings Menu", and click on the "Readings" tab.
Instead of the "Static" page, select "Your Latest Posts" in the reading settings.
Click on the "Save Changes" tab, and your blog posts will now be on your new homepage.
The Next Steps
The next steps depend on what you want your entire website to represent. For example, you can make your home page in WordPress stand out from the competition with a unique design.
You can add a gallery to showcase your work, a warm, welcoming message, and a link to your blog page. You can use anything that suits your requirements to set the appropriate tone for your website.
Another option is to make the website work for you by adding a custom menu directing your visitors to the content you want them to see. Adding widgets to the sidebar is another popular choice, as they help visitors navigate and explore your site.
The dashboard navigation menu has a "Home" button that links to the homepage of your website. This custom link should be added to your website.
Here is an easy way to do it:
Visit the "Appearance" menu, and select the "Menu" tab in the admin dashboard.
In the "Menu" tab, find the "Pages" box and click on it.
Select the "View All" tab and check the "Home" box.
Click on the "Add to the Menu" option.
Lastly, click on the "Save Menu" button.
Tips for Setting Up Your WordPress Website Homepage
If your default WordPress homepage has been up for a while, it's a live site with a regular number of visitors. To update this site, you'll need to put it in maintenance mode to change your homepage seamlessly. An alternative option would be to create a new page that you can set as your homepage
WordPress offers several plugins that signal maintenance to your visitors, so they'll know why your website is down – you only need to choose the one you prefer.
It's also a good idea to have your website backed up. This adds an extra safety layer, so you won't lose any posts. But, again, it's straightforward to do.
Not only that, but nowadays, you even have the option to automatically store the data from your entire site in the cloud as soon as it's generated.
Customizing Your WordPress Homepage
Once it's set, several options exist to customize your WordPress homepage. For example, you can use a theme customizer. It lets you preview your page in real-time so you can see how your edits change the page.
You can tailor your homepage to your liking using a block editor. This tool allows you to implement several advanced features on your sites and is compatible with most WordPress themes.
Common customizations made with the block editor are adding a client section, establishing a testimonials area, adding Google Maps, and creating a contact info section.
Another option is to create a custom homepage with the help of a WordPress page builder plugin. These enable you to build pages using a drag-and-drop editor that gives you a visual of your page in real-time.
Popular options for customizing blog posts include setting up the number of post entries you want to display and controlling how the post entries are displayed.
Why Set a Customized WordPress Homepage?
There are several reasons to create a custom homepage in WordPress and move away from default WordPress themes.
It can help you increase the number of your email subscribers, generate more leads, convert more sales, have a landing page instead of a blog, allow you to focus on products and services instead of content, and more.
Whatever your reasons, setting up a custom WordPress homepage is one of the most significant steps toward your goals. Your website is the face of your brand, and your homepage showcases your brand to your visitors and potential clients. Therefore, the better your homepage looks and the more it represents your message, the better impression it creates.
Conclusion
While a default home page typically works for simple blog pages, you'll need a custom homepage for your WordPress website if you want to do things differently.
Fortunately, it's straightforward to set up a custom homepage in WordPress. To develop a static homepage, you'll need to create a new page, move the contents of the old one to a different page, and set the new WordPress page as your homepage.
Of course, you can customize the newly created page to your liking using a home page builder plugin, a theme customizer, or a block editor. You can also create dynamic content on your static page by setting up a dynamic blog page where your can showcase your posts.
I hope you found this article helpful and that you can now set up a homepage for your WordPress site.