In today's digital age, businesses need to have an e-commerce presence. With the internet allowing customers to shop from around the globe, having a solid online presence is vital for success.
With many options available to make this happen, deciding which is best for your business can take time. Two popular ways of selling online are via sales funnels and storefronts.
Sales funnels offer more visibility, are efficient, and provide data-driven insights, while storefronts offer a leisurely shopping experience with flexibility in design and customization. Both have pros and cons that should be considered before deciding which option is best for your business.
In this article, we'll compare both methods and outline their significant differences so you can decide which is suitable for your business model.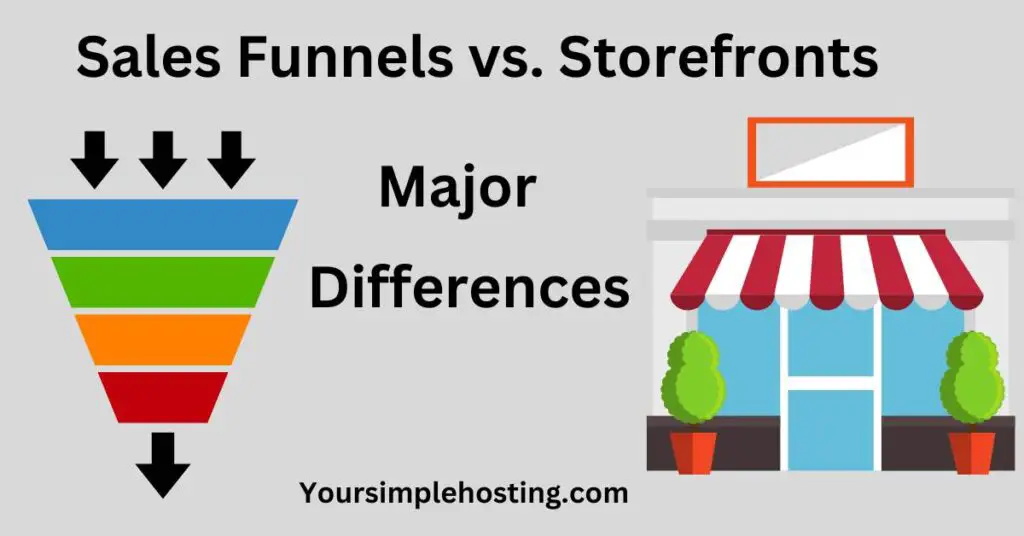 Table of Contents
What Is a Sales Funnel?
A sales funnel is an automated process that guides customers through the buying journey. It usually involves steps and pages designed to lead the customer to a purchase decision and checkout.
It typically begins with a landing page, leading to other pages like product pages, shopping carts, and payment pages. Its goal is to guide customers through a series of steps that will lead them to a purchase decision.
The advantage of using a sales funnel is that it allows businesses to control the journey and provide customers with all the necessary information to make an informed purchase decision. It also allows companies to measure and track customer behavior to make data-driven decisions based on what works best.
What Is a Storefront?
A storefront, also known as an eCommerce store, is an online platform that allows customers to browse products and purchase them directly from the website.
It usually contains product descriptions, images, prices, payment options, and other features like shipping and customer service information.
Storefronts are often used by businesses that want to provide customers with a more comprehensive shopping experience. They typically contain multiple pages with product information, reviews, order tracking, customer accounts, loyalty programs, gift cards, and more.
Differences Between Sales Funnel and Store Fronts
There are a few significant differences between sales funnels and storefronts that you should consider before deciding which one is right for your business.
Cost
One of the main differences between sales funnels and storefronts is the cost associated with each platform.
Setting up a sales funnel usually requires more upfront investment, as additional tools or services are typically required to set it up and manage it properly.
Setting up a storefront is typically less expensive as it requires fewer additional services. However, some features might require extra investment to make your store more user-friendly and successful.
Automation
Another clear difference between sales funnels and storefronts is automation.
Sales funnels are designed to be automated from the start and usually involve setting up automation for things like email follow-up sequences, product recommendations, and more. This automation can save businesses time and help them scale their operations.
Storefronts are generally less automated than sales funnels, although some options are available to automate specific processes. For example, some storefronts offer automatic shipping and order tracking or customer account creation and management.
Scalability
Regarding scalability, a sales funnel allows businesses to scale up quickly as they can easily be tweaked or changed to accommodate more customers or different products and services.
Storefronts can take longer to grow as businesses need to add products and adjust their store to accommodate more customers. They also require additional coding and development work whenever you want to add a new product or service.
Design
Sales funnels are typically created using templates and drag-and-drop tools, making design and customization easier. In addition, the sale funnel design is usually optimized for mobile devices and desktop computers.
Storefronts require more complex coding and development work to create a unique design that reflects your brand. However, the advantages of having a custom storefront are worthwhile. With it, you can control the look and feel of your website to ensure it reflects your branding.
Customer Loyalty
When it comes to customer loyalty, sales funnels offer little to incentivize customers to buy from your store again. Instead, once a lead is captured and converted, customers are left to their own devices to make repeat purchases.
Storefronts provide customers with a comprehensive shopping experience that encourages them to return for more.
By creating loyalty programs and offering incentives like discounts or free shipping, you can increase customer retention and create brand advocates who will help drive further sales.
Marketing
Sales funnels are excellent for marketing campaigns, allowing businesses to track and target customer behaviors more effectively.
With the ability to measure and analyze data, you can fine-tune your marketing efforts to maximize conversions.
Storefronts have different capabilities when it comes to tracking customer behavior. You can use a combination of analytics tools to gain insights into customer behavior and make data-driven decisions.
Visibility
The visibility of your products and services is also essential when choosing between sales funnels and storefronts.
Sales funnels are usually more visible, as they can be easily shared across multiple channels such as email, social media, or even search engine result pages.
Storefronts require more visibility tactics, such as SEO optimization or paid advertising campaigns, to get noticed. Although they might take longer to appear on search engine results pages, they usually provide more lasting visibility and generate organic traffic over time.
Analytics
Sales funnels provide businesses with a powerful tool to monitor customers' interactions and make informed decisions based on real-time data. This allows companies to adjust their sales strategies and optimize their campaigns for better results.
Storefronts offer the same data-driven insights but usually require more complex analytics tools to gain valuable insights into customer behavior.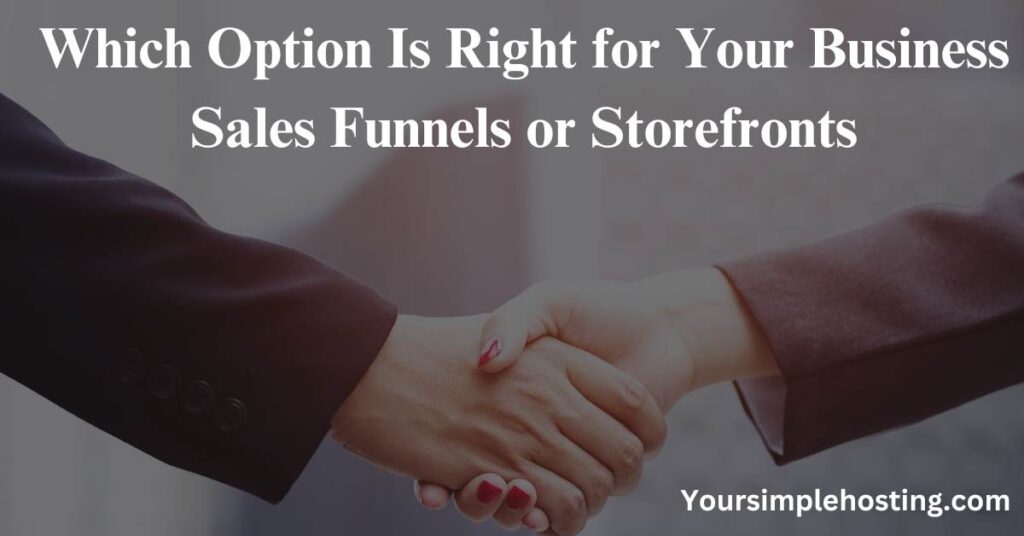 Which Option Is Right for Your Business Sales Funnels or Storefronts?
Choosing the right sales and marketing solution for your business depends on many factors, such as budget, customer preferences, product visibility, and user experience.
Storefronts: Pros and Cons
Storefronts are an excellent option for businesses that want complete control over the design and customization of their website. This allows companies to create a unique look and feel that reflects their brand.
Storefronts offer the ability to add new products and services easily. In addition, companies can customize the checkout process with them to fit their needs better.
Setting up and managing one comes with some drawbacks.
Firstly, designing and building a website from scratch takes time and money.
Maintenance costs can quickly increase if you hire a web developer or designer.
Storefronts require expertise and knowledge in coding, which can be a lot of work for many small business owners.
Sales Funnels: Pros and Cons
Sales funnels offer businesses the ability to reach a larger audience with minimal effort.
The drag-and-drop design tools make creating a website easy and efficient. Plus, since the funnel is already set up, you can handle the technical aspects of website design.
There may be better options for businesses that require a lot of customization or complex features.
Some sales funnels are more varied in design and layout options, which can impact your overall branding.
Sales funnels might also be more expensive in the long run, as monthly subscription fees add up quickly.
Conclusion
Businesses must carefully weigh the pros and cons of each option when deciding between the two. While sales funnels offer a quick and easy way to capture leads, storefronts provide lasting visibility and customer loyalty.
Ultimately, the best choice for your business will depend on your goals and budget. By researching both options, you can make an informed decision that best fits your needs.
With the right strategy in place, you'll be able to maximize conversions and ensure the success of your online store.