If you have a business or company, you probably want to set up a website to showcase your brand and sell your products and services. 
There is a lot involved in making and hosting a website. You might be wondering what sort of costs you're going to have in order to host your website and make it viewable by individuals all over the world. 
In this article, you're going to find out everything you need to know about website hosting and the associated costs, including any potential hidden costs and those extra services that are optional. 
I will talk about what you should do to get started, how to fit everything into your budget, and what sort of plan you should have in place to benefit the future of your website. 
The Basics of Web Hosting Costs
When it comes to website hosting, you do get what you pay for. 
The reality is, the more you pay for a hosting provider, the faster your site will be, the more traffic your website will attract. Google now includes site performance as a ranking factor, this is to help with user experience.
The majority of plans work on a monthly payment basis, and you could pay as little as $1 a month for your basic hosting services. However, at the higher end of things, you could pay up to $2,000 a month. 
You will find that most web hosting services offer discounts for committing, for example, 12 months on the server. Many also let you try their service for a certain period of time for a reduced cost or even for free. 
There are three types of servers you can choose from for your website. These options are shared hosting servers, virtual private servers, and dedicated servers.  
Shared Hosting Servers
The cheapest option to go for is shared hosting. This is where multiple websites are run on a single server. 
For a basic website that doesn't generate a massive amount of traffic, you are likely to pay anywhere between $10 to $150 a year for shared website hosting. 
At initial sign-up, low-level shared hosting can cost you around $3.06 a month, and when renewing your subscription, the price usually increases by about 40%.  
Mid-level shared hosting usually costs about $5.73 a month during sign-up, with a 30% increase on renewal. 
If you only have one website that needs hosting, then an entry-level plan will work perfectly for you. Whereas if you have multiple websites, a mid or high-level plan is what you're going to need. 
Generally, shared hosting offers great performance. It is, however, important to consider the drawbacks of shared hosting and the reasoning for its lower price. 
When a shared web host states they have a huge amount of storage (bandwidth it offers per server), it's important to note that, as the name suggests, this is shared amongst however many other websites are using the same server.  
The number of websites on the same server as you could be as low or high as the hosts choose and all the benefits they sell to you will be shared amongst all those other websites. Therefore, the performance of shared host services will be less than that of VPS and dedicated servers. 
Virtual Private Servers
Virtual private servers, also known as VPS, are somewhere in between shared and dedicated servers. 
VPS usually comes with better customer support, along with better quality features, than shared servers.   
They act as a dedicated server by offering you the same features and flexibility. You also aren't technically sharing a server with any other websites. However, the web hosts are largely in control and put limits on the resources you are able to use, such as storage and memory. 
This is the perfect option for people who are unsure as to whether they need huge amounts of resources to run their website. 
On average, entry-level VPS should cost around $15.47 per month at sign-up, increasing to $17.49 per month at renewal. 
For mid-level VPS, it is likely to cost you $25.66 per month at sign-up and then $28.05 a month when renewing. 
Dedicated Servers
For a more advanced website with a higher budget, you might choose a dedicated website hosting plan. This is where only your site runs on a particular server, and you can benefit from more features and resources at your sole disposal. 
Dedicated servers are particularly great for large websites and businesses that get a lot of visitors. The businesses themselves are able to control the server rather than it being under the control of the web hosts. 
You will be paying top prices for dedicated hosting servers, and the more features you want, the more expensive it will be. 
As an example of how much such plans might cost you, the dedicated server plan at InMotion Hosting will cost you $99.99 per month. These plans will offer a higher capacity and bring more traffic to your website. 
Free Web Hosting Services
If you are looking to spend as little as possible on your website, then there are some free web hosting services available. However, it is important to note that this means you'll likely be getting the very minimum.  
Free hosting sites won't generate as much traffic, and they will probably try to sell you upgrades and other paid services. 
Having said this, free website hosting is a great option for people setting up their website for the first time or who have a very new business and want to test out how the whole process works before diving in and spending big bucks on website hosting. It is also useful for gathering data for your business. 
Some of the top reliable free web hosting services available are Wix, InfinityFree, and AwardSpace, amongst others. 
You might be wondering, are these free web hosting sites too good to be true? 
The way free web hosts get their money to enable their services to be free is primarily by advertisements on their site, which usually appear as banners or boxes. So, you don't need to be too skeptical about free hosting plans. However, you are unlikely to see as much traction or results as from paid plans. 
Some of the drawbacks of free hosting are that you are more likely to experience technical issues with your website going down or performing slowly. 
How To Know Which Web Hosting Plan Is Right For You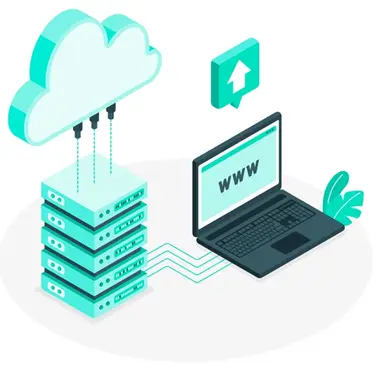 All of this is a lot of information to take in, and for newbies to website hosting, it might be a bit confusing knowing exactly what you need and don't need for your site. You don't want to overspend on loads of fancy features if you don't need them. 
For people just starting out or people who are creating a website as a hobby, to test out how it works, or perhaps to gather some data, a free hosting service is the best option for you. This way, if you want to push your website further, you can make an informed decision about whether it is worth spending money on a more advanced hosting service and what sort of features you might need. 
If you want to spend money on a web hosting plan, you need to be realistic about what extras and add-ons you need. 
If you have a large budget and perhaps run an established, successful business, then you will most likely want to pay top dollar and go for all the add-ons available so that the provider does a majority of the tedious website admin work for you, and you can focus on making your business soar. 
If you are somewhere in the middle, then you need to consider the following features and which of them is most important to you and your website: 
24/7 customer support 
Free domain 
Type of hosting server 
Amount of storage 
Guarantee of uptime 
Maintenance 
Backups 
Bandwidth 
Load times 
Price 
Secure Sockets Layer (SSL)encryption, most SSL certificates are provided by lets encrypt
Security 
You should go through this list and consider if you need these features and what sort of level you want each of them to be. 
For the highest amount of storage, the best customer support, and top-quality maintenance, it is inevitably going to cost you more. 
So, if you are on a budget, you will need to make compromises on certain things, and therefore, choose what aspects are most important to you in order to get a price that works for you. 
If you are a smaller business, you might not need constant customer support, website maintenance, or as much storage, and so these might be areas where you can save a bit of money. Look at what is most important for your specific website. 
Performance And Security
Performance and security get a whole section dedicated to them due to how important they are to any website. 
When picking your web hosting provider, their assurance of performance and security is one of the top things you need to look into. 
There are certain safety features that web hosting providers should offer. These are outlined below. 
Hardware Security
A web hosting service is, in a nutshell, a server space that will host all of the files that make up your website. You want these servers, and all the data that it is holding, to be protected. 
The physical location and security of data centers and server rooms are, therefore, vital as man-made or natural issues could compromise the servers and, therefore, your website and data. 
So, when you pick your web hosting provider, you want to ask them where their servers are based, the security measures they have to keep them safe, and protocols in place to protect the servers in events such as a power outage. 
Network Monitoring
To keep your website and data safe from potential threats, you want your web hosting service to have consistent monitoring so they can quickly detect and resolve any issues that occur. 
You will want to ask your hosting provider how they monitor networks for potential security attacks and what measures they have in place to contact customers to inform them and deal with the threat. 
Secure Access
It's important that your web hosts limit who has virtual access to their servers to prevent any compromisation of data or other such issues. 
Ideally, you want your web host to use Secure Sockets Layer encryption, SSL, which makes any intercepted data unreadable. It is vital for protection, especially of e-commerce websites, and protects your customers and business. 
Web hosting platforms should provide SSL certificates with their plans, but for some, you might have to obtain them separately. 
Nowadays, websites that don't have an SSL certificate are actually considered to be insecure sites. This isn't something you want, as this might deter customers. 
You also want your web host to follow Secure Socket Shell, SSH, protocol. This is all about ensuring safe and secure logins with password authentication and keeping all login data encrypted. 
Another security measure that you want your web host to have is a Web Application Firewall (WAF). These defend your website against cyber-attacks and generally help to monitor and filter traffic to ensure safe access. 
Backups
In the case of your website crashing, you want to make sure that you are not going to lose any of your data and be stuck in the position of having to remake your website. 
So, you want to make sure that your web host offers both physical and virtual backups so that your website is protected and can be completely restored in the event of a crash. 
Things to ask your web hosts include whether automatic backups are part of their plans. How often do backups occur, and how many versions of your website can be stored as backups? 
Popular Web Hosting Service Prices
GoDaddy
GoDaddy – Starting from $5.99/month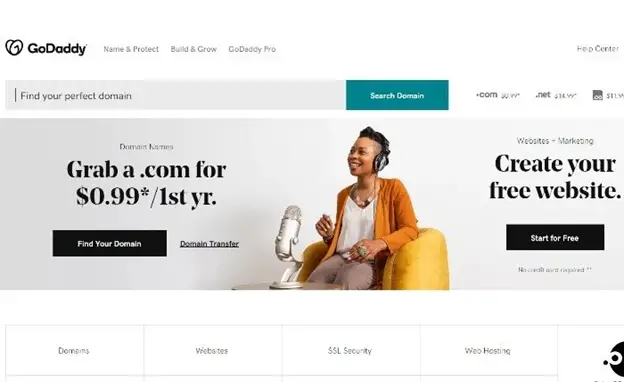 GoDaddy is one of the biggest web hosting services out there, with over 17 million people using their services. 
They offer SSL certificates at an affordable price, so you know all data is completely protected. They offer hosting for a range of sites, including websites, WordPress, and business, whilst also having a fantastic hands-on website builder and a customer support team that is always available. 
Their plans start at $5.99 per month and increase depending on what add-ons and specifications you choose. 
Hostwinds
Hostwinds – Starting from $3.29/month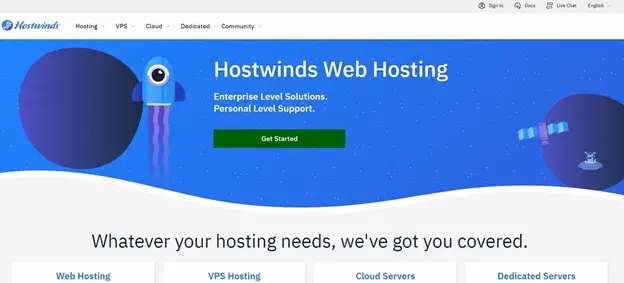 The web hosting provider Hostwinds offers shared hosting and assures 99.999% uptime, so you don't have to worry about your website going down and potentially losing you money. 
This is a great company to go for if you are just starting out with your website because they also offer services for domain registration, providing SSL certificates, and maintenance. 
Their basic plan starts as low as $3.29 a month, but for their dedicated server plans, it will cost you around $67.50 per month. The exact price will then vary depending on what extras you want to add to your plan. 
Bluehost
Bluehost – Starting $2.95/month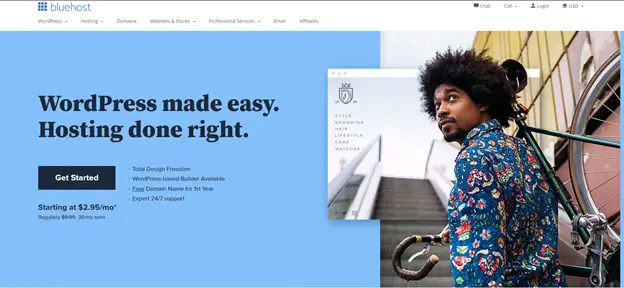 Bluehost offers an interface that is very easy to use. In their lower costing plans, they provide free domain names, which is where you can pick a name for your website for free, but the domain renewal can be expensive. 
Bluehost offers VPS web hosting, shared hosting, dedicated hosting, and cloud. 
This provider is recommended for PHP applications, and all its services, including data centers and fiber connections, are in-house. 
The lowest price for a shared hosting plan with Bluehost is $2.95 per month, and the dedicated hosting plans are around $119.99 per month. 
Hostinger
Hostinger – starts between $3.95/month and $12.98/month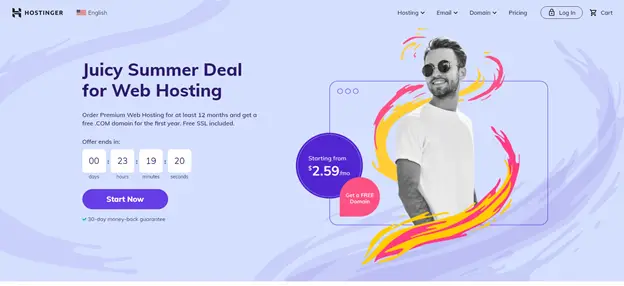 Hostinger has over 39 million customers and operates in approximately 40 countries around the world. 
It guarantees 99.99% uptime and has load speeds of around 70-80ms. It offers constant customer support, free domain, backups, and other features. 
It is one of the most affordable web-hosting providers, costing as little as $0.80 a month for single shared hosting where you get a domain, an email account, a bandwidth of 100GB, and 10GB SSD space. 
For VPS hosting, it will cost approximately $3.95 per month, and for dedicated hosting, $12.98 per month. 
Hostinger is definitely one of the more affordable web hosting providers. 
Is Website Hosting Worth Paying For? 
There is a lot involved in running a website, and if you're running a business, then you're going to have a lot of money and time spent on things such as advertising and production. 
The great thing about web hosting is that it reduces some of the work for you. Some of the tedious jobs, such as customer support, dealing with technical glitches and making sure your website is safe and runs smoothly, will be sorted for you by your host, and you won't even have to think twice about it! 
The more you spend, the more time you save, so spending a little extra on web hosting can be worth it. Paying for that extra security, storage, and bandwidth can make all the difference in running a successful website. 
The key is to test it out and work your way up. If you're new to this, start with a free hosting plan, and you can gradually upgrade to other more expensive plans as you learn what it is that your website needs! 
If you're looking at creating a website, you need to consider web hosting costs and what hosting provider to choose.