If you're like me, you are a technology enthusiast who is fascinated by the online world. It's a realm that is forever changing and at a greater pace than ever before. 
One particular area that I am constantly curious about is regarding the latest developments in domain names. An intriguing extension that may have caught your eye, as it did mine, is the .ai domain. The .ai domain started life as the top-level domain for Anguilla.
We're all familiar with the more common .com, .net, and .org domains, but there is an air of mystery surrounding .ai domains.
My eagerness to explore this domain led me to you today! In today's post, I will explore what a .ai domain is and learn more about its origins, purpose, and potential implications for businesses and individuals in the digital landscape. 
Let's uncover the fascinating aspects of the .ai domain and its significance in today's technological realm.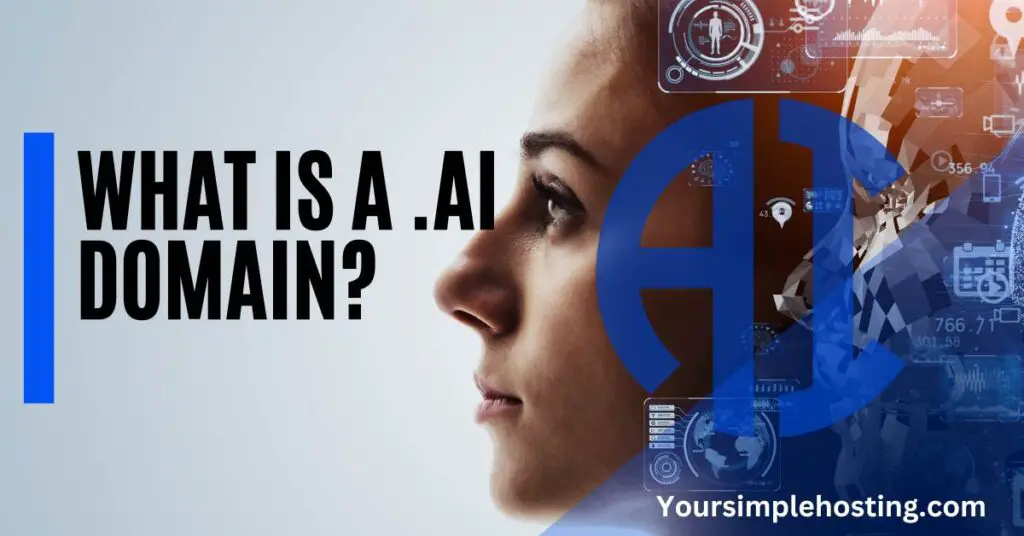 Table of Contents
.AI Domain Explained 
You may think that .ai domains are a relatively recent addition to the online world, but they were introduced back in 1995. At first, they were created as the ccTLD (country code top-level domain) for Anguilla, a low-lying island in the Caribbean Sea. 
In most cases, a ccTLD requires some sort of business to be based in, either that or have connections to the country it represents. However, 2009 saw the introduction of new requirements regarding .ai domains.
In 2009, the .ai domain was made available across the world and without any restrictions. 
What does this mean? It basically means that .ai domains are as open to ownership as .net or .com. 
Okay, you're probably thinking what I was thinking when finding out the origins of .ai domains; that being, you do not immediately associate the British Overseas Territory of Anguilla with the acronym "AI." Instead, you probably think of "Artificial Intelligence."
We're not the only ones to think this, however. A great number of organizations have taken advantage of the .ai domain and made it the home and main domain for their websites. 
Today, the .ai domain has gained popularity in the technology and artificial intelligence sectors due to its resemblance to the acronym "AI." While initially intended for websites related to Anguilla, the .ai domain has been adopted globally by businesses and organizations focused on AI, machine learning, robotics, and other technology-related fields.
It is often chosen for its relevance to the AI industry and its potential to create unique and memorable web addresses.
Those with a more creative mindset have discovered alternative approaches to utilize the .ai domain effectively for their brand. For instance, a substantial 44% of the top 25 machine learning start-ups listed by Forbes have embraced the use of a .ai domain name for their online presence.
Moreover, there are further options for the standard .ai domain. Businesses can implement a range of popular domain extensions as second-level domain names. Examples include .net.ai, .com.ai, .org.ai, and many more. 
When it comes to choosing a domain extension with .ai, there is an almost endless list to choose from for developing companies and start-ups. 
Why .AI Domains Are So Popular 
Since taking center stage on the global domain stage in 2009, the .ai domain has grown in popularity. There are many reasons why businesses use .ai domains today. Here are some key points that may be applicable to you and your business:
Great Value For Money 
Although .ai domains have been around for over a decade, it is interesting to note that premium second-level .ai domains, unlike their .com counterparts, are generally more affordable.
Even when purchased from domain registrars like Namecheap or Sedo.com, .ai domains are still more affordable than many of their counterparts.
Excellent For SEO
If you have any knowledge of domains and websites, you'll know that SEO (Search Engine Optimization) is of critical importance. For any business searching for a domain, SEO will be a key factor in determining what domain is best.
Users on platforms like Google or Bing are constantly making queries related to the term "AI." Google, therefore, treats some ccTLDs, such as .ai, in the same manner as .com, .net, or .org.
This means that when it comes to SEO considerations, there is no need to engage in a debate between a .ai and a .com domain, as both can serve your purposes effectively.
Registering Is A Breeze
In my experience, registering a .ai domain is a straightforward process, just like any other unrestricted top-level domain. All I had to do was choose my preferred registrar and provide the necessary information.
After completing the payment, I became the proud owner of the domain, with a minimum registration period of two years. Easy!
Lots Of Availability 
In the context of the world wide web, .ai domains are relative puppies. Therefore, a greater number of .ai domains are available to register with. In turn, this can help a business that is looking for such a domain boost its SEO ranking.
Of course, some "category killer domains" will already have been registered, but the overall availability remains higher than .com domains. This is probably down to the fact that many registered .com domains are owned by investors rather than companies. 
A Main Con Of .AI Domains? 
While there are numerous advantages to using a .ai domain, there are a few drawbacks. One of the main disadvantages of .ai domains is that they can lose potential website traffic, as most users instinctively add .com to a brand name when typing in a website address. 
This can increase the risk of directing customers to another company's website with the same second-level domain name registered as a .com. This can be avoided, however, by incorporating the .ai domain into the brand name and ensuring clear brand messaging across all marketing channels.
Conclusion
Starting as a top-level domain associated with Anguilla, .ai domains are today used in the technology and artificial intelligence sectors. The domain is regularly used to create unique web addresses linked to the AI industry.