In the modern internet age, it is true that, even with the advancements we have made in technology, most of us don't even know half of the terms we hear being thrown around online. 
One such example is parked domains – something that refers to very specific things within internet computing, but that is something many people wouldn't have a clue about. 
So this begs the question: what exactly is a parked domain, and what is its purpose?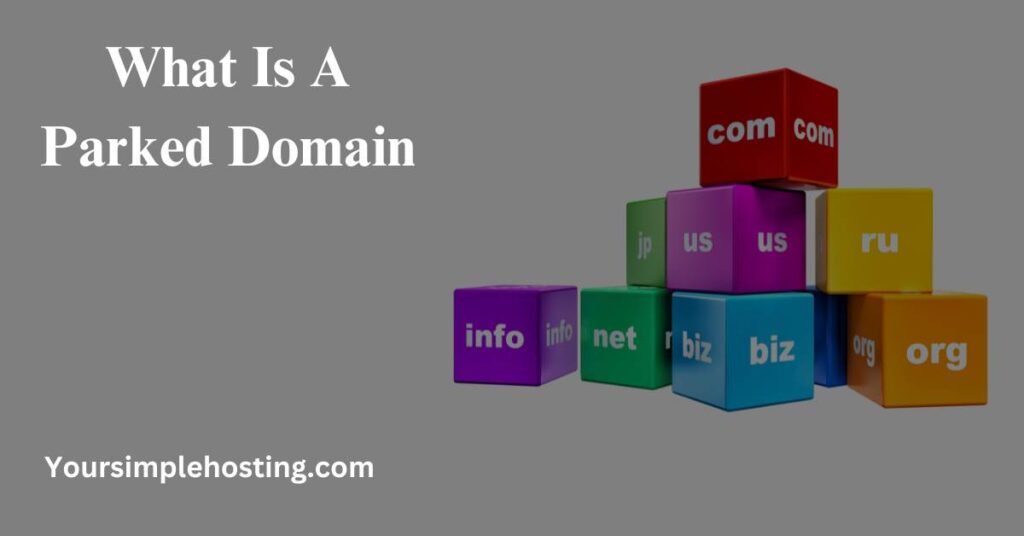 Table of Contents
What Are Parked Domains? 
In simple terms, a parked domain is a domain name – an identifying sequence of numbers, letters, or symbols that attribute ownership to an individual or group – that is not actively assigned to any specific website, business, or email hosting service. 
What Are They Used For? 
Parked domains do not have an active use – hence the term "parked" – but can indeed be purchased for use as a spare domain name, for selling for profit at a later point, or indeed to protect against fraud and cybercrime. 
Why Might You Want To "Park" Your Domain? 
As such, there are many reasons why someone might want to park a domain once they have purchased it – either for their personal convenience or for some long-term plan pertaining to their business or personal interests. 
Haven't Made A Website
One of the most common reasons why someone might choose to park their domain name is that they haven't yet had a chance to create their website for their business or personal venture. 
They might have chosen to take ownership of a domain to secure it for their use but haven't had time or resources left to make the website in time for the domain name to be attached. 
This is a common occurrence with small business owners, who, due to limited resources or manpower, do not have time to sync everything up perfectly – or at least not to the same professional standards as large business entities might. 
Buying For Later Use
As mentioned above, domain names might become parked as a means of using them later in the financial year – or when you might need some valuable assets to sell. 
Domain trading and selling is a common practice for many online businesses, and if the domains are popular – or related to a current trend – then you might choose to shelve them or store them until a time when the price or market is right for selling. 
Domain selling might not sound like the way to make a fortune, but it can indeed be lucrative for those with the means, the understanding, and the ownership of a property that people want to buy. 
Here is an example of a parked domain EasyMoney-FromHome.net.
To Generate Additional Income
Of course, there are other benefits to investing in quality domain names. Maybe you think a domain name has potential, but you don't yet have a business idea that can go with it. 
If this is the case, then you might choose to shelve the domain name for a certain amount of time – to a point when you either have an idea, can use it for other marketing purposes, or, indeed, whenever it can become an asset (and another source of income) for you. 
Advertising Purposes
People might choose to use a lucrative and great-sounding domain name to attract browsers to the space. Here they can have advertisements, allowing people to then go off and engage with those businesses. 
This can be a great source of passive income and is done by countless businesses all around the world. 
Waiting For Expiration
Of course, maybe you have just gotten sick of using your website or bought another one for a new venture.
If this is the case, you might park the domain name until your ownership of the site expires, or you have a new one in place. 
This is another common occurrence, especially for those online business owners with multiple irons in the fire. 
How To "Park" A Domain? 
Of course, numerous online services allow you to park a domain name for a time – each with something different to offer the consumer. 
Many of these companies will allow you to park the domain name for free – albeit for a percentage of the advertising rewards you will get while it has been parked. 
However, if you do not intend to make any money from your parked domain, you can instead park it for free, making it completely defunct once parked. 
For a free domain parking service, you could give the following companies a try: 
These are all great, free domain parking services that will take care of the whole process while not charging you anything in the process. 
However, if you do indeed wish to keep the advertising up and running, even after it has become defunct, then you should try sites like Sedo – which allow you to park through their system while taking a cut of your advertising revenue in the process. 
Conclusion
To conclude, we have everything you need to know about parked domains, what they actually are, and their purpose within Internet computing. 
It's true that, within the world of the internet, there are many functions that we have no knowledge about – many of which are highly important and allow us to do many of the tasks that we take for granted.
However, there have never been more resources to learn and educate ourselves about online processes and how they work. 
Therefore if you want to know more about parked domains, then be sure to refer to this handy guide. Something tells me you won't be disappointed!