Since its inception in 2004, SiteGround has garnered significant attention in the industry due to its reliable services and strong reputation. This web hosting service provides hosting for approximately 2,800,000 domains across the globe as of April 2023. 
SiteGround also provides cloud hosting, shared hosting, email hosting, domain registration, and enterprise solutions to help businesses excel in their respective fields. Overall, SiteGround caters to the needs of various businesses and individuals alike.
But what sets SiteGround apart from other hosting providers? In my comprehensive guide, I will delve into all you need to know about SiteGround, exploring its features, performance, customer support, and pricing. 
Whether you're a beginner looking to launch your first website or a seasoned professional seeking a reliable hosting solution, I have got you covered with all the essential information about SiteGround right here.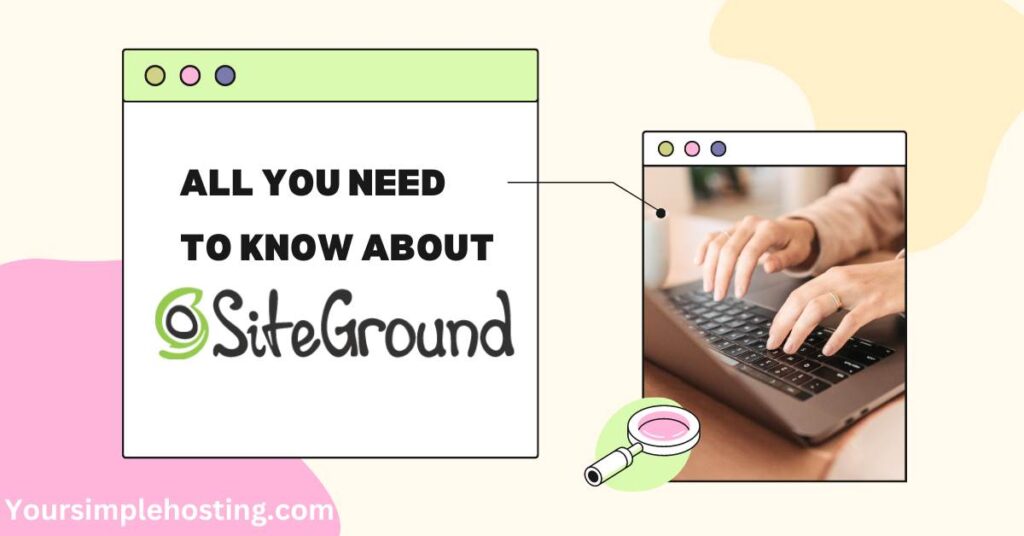 Table of Contents
What Is SiteGround?
Founded in Sofia, Bulgaria, in 2004 by a few University friends, SiteGround is a popular web hosting company known for its impressive performance and reliable commitment to customer satisfaction. 
SiteGround has established itself as a prominent player in the web hosting industry for years, and its reputation is well-deserved. The company goes above and beyond to offer a wide range of hosting solutions accompanied by cutting-edge technologies, exceptional support, and a host of services to help businesses accomplish their goals. 
When it comes to web hosting, SiteGround is committed to delivering industry-leading features and resources that empower individuals and businesses alike to thrive online.
It is generally agreed that SiteGround boasts a state-of-the-art infrastructure with optimized servers and innovative technologies. The service is renowned for delivering excellent loading speeds and reliable uptime for websites hosted on its platform. 
Furthermore, SiteGround offers a user-friendly interface and a range of intuitive tools, making it easy for users to manage their websites efficiently. 
Whether individuals or businesses are looking for cloud hosting, shared hosting, or dedicated servers, SiteGround offers a rich set of features to meet the needs of website owners worldwide. 
SiteGround – Products And Services
SiteGround offers a diverse range of products and services to cater to the hosting needs of various individuals and businesses. 
Here are some of the key offerings provided by SiteGround:
Web Hosting 
SiteGround's web hosting service promises to help "elevate your online presence with a hosting partner that has your back." This service offers excellent security, 24/7 friendly support, and ultrafast speed, helping businesses reach the next level.
WordPress Hosting
This is a powerful platform that is recommended by WordPress.org. It is also trusted by the owners of nearly three million domains.
WooCommerce Hosting 
SiteGround's WooCommerce plans are crafted to provide you with seamless support in launching and maintaining a thriving website equipped with an online store. 
With a focus on simplicity and effectiveness, these plans are tailored to empower you with all the necessary tools and features to kickstart and manage a successful e-commerce venture. 
SiteGround's WooCommerce plans offer a user-friendly and robust hosting solution to meet the specific requirements of your online store.
Cloud Hosting
Businesses can reach new heights by harnessing the power of SiteGround's managed service and auto-scalable cloud hosting plans.
SiteGround's managed service takes care of all the technical aspects, allowing you to focus on growing your business without worrying about server management. Additionally, their auto-scalable cloud plans provide the flexibility to scale resources effortlessly as your website's demands evolve. 
Reseller Hosting
SiteGround can provide reliable hosting solutions to your clients as a reseller while simplifying the management process. Their comprehensive reseller hosting plans allow you to access user-friendly interfaces and robust features that streamline your operations. 
Should You Use SiteGround?
SiteGround is ideal for a wide range of individuals and businesses looking for reliable and feature-rich web hosting solutions. Here are some key groups of people who should consider SiteGround:
Entrepreneurs – The majority of entrepreneurs require websites for whatever project they are starting up. More often than not, multiple websites are needed to run the business effectively. With SiteGround, starting and managing a website is typically quick and easy, no matter how technically experienced you are. 
Small businesses – Websites are essential for any small business owner. Most importantly, the website should run smoothly and laid quickly so visitors have the best experience possible. Siteground offers reliable hosting services that are also easy to manage. Again, you don't need to be technologically proficient to run and manage your site, either. 
E-Commerce sites – Having a reliable web hosting service with a robust Content Delivery Network (CDN) is crucial for any E-Commerce site. This ensures fast loading speeds for visitors from anywhere in the world. SiteGround provides CDN services with all their hosting packages, which effectively optimize the delivery of content, resulting in exceptional loading speeds and an enhanced user experience for e-commerce websites. 
Social Media Influencers – Most social media influencers spend the majority of their time on platforms such as Instagram or TikTok. But, as well as this, influencers tend to need a website, too. This can help share important information with their followers and is a great way to link to their social media pages.
WordPress Blog users – For anyone wanting to start a blog or a certain website project, SiteGround can help. I decided to register for a SiteGround account and then installed WordPress. Within an hour, I was publishing content on the site thanks to SiteGround's simplicity. 
SiteGround Plans And Pricing
There are currently three current web hosting plans:
StartUp – Good for beginners
GrowBig – Good for startups
GoGeek – Good for small and midsize businesses
Prices range from around $3 to $8, but these are subject to change over time. 
Each SiteGround hosting plan comes with at least 10 GB of space and over 10,000 monthly visits. Users can also enjoy unmetered traffic and a range of freebies, including daily backup, CDN, an SSL certificate, WP installation and migrator, email, and much more. 
The service also provides a 30-day money-back guarantee in case you find it not quite right.
Hosting Plan Features
Users can enjoy next-level features with SiteGround's higher-priced service. Below are the impressive hosting features offered by SiteGround:
Automatic WordPress installation
Numerous options for creating a site
Email hosting (Free)
Email migrator tool
An easy-to-use, customizable cPanel
Easy service management
Out-of-the-box caching
Technology that supports faster page loading times
Advanced security options
Daily backups
30-day money-back guarantee
99.9% uptime guarantee
With SiteGround, you can take advantage of a range of features, such as automatic WordPress installation, making it easy to set up your WordPress website quickly.
They provide free email hosting and an email migrator tool for seamless email transfer. Out-of-the-box caching also improves website performance, while their technology ensures fast page load times.
Conclusion
SiteGround is a web hosting company that has been expanding since beginning in 2004. As one of the largest hosting companies with over 500 employees and 2 million sites in its portfolio, SiteGround has established itself as a reputable provider known for delivering high-quality hosting services to both businesses and individuals.