If you plan to start a website, you should know the hosting costs of owning one.
If you're new to web hosting, figuring out these expenses can be daunting and time-consuming. However, categorization can give you more control over your money.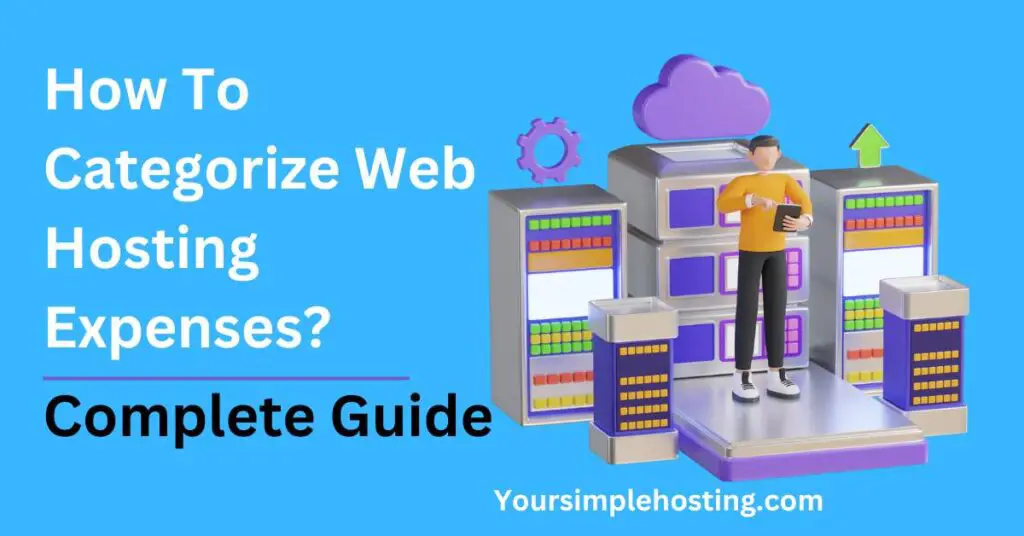 Table of Contents
How To Categorize Web Hosting Expenses?
I've been running websites for several years, so I know all the ins and outs of owning one. That being said, I also know which web hosting expenses come with owning a  website.
Understanding and categorizing these expenses isn't easy for beginners. However, you shouldn't worry too much because I'm here to guide you throughout the process.
Here's a comprehensive guide on how to categorize web hosting expenses:
Step 1: Identify Your Hosting Needs
The first step to successfully categorizing your hosting expenses is identifying them.
You must determine the type of website you want to make and the features you require from your hosting provider. Essential features include storage space, bandwidth, security, backups, email accounts, and uptime guarantees.
Once you determine your hosting needs, you can narrow your search for a web hosting provider offering those features.
This step will help you find the right hosting provider that meets your needs and fits your budget.
Step 2: Sort Out Your Hosting Expenses
Once you determine your hosting needs, you can split your web hosting expenses into the following categories:
Domain Name Expenses
Your domain name is your first expense when starting a website; it's the address your visitors will use to visit your website.
The price of a domain name varies depending on the registrar and the type of domain extension you pick.
Hosting Plan Expenses
Your hosting plan expense is the most important when making a website. You can choose from different hosting packages, such as shared (the most common among new website owners), VPS, and dedicated hosting.
Each package has unique features and price ranges, so choose something that meets your needs and fits your budget.
Add-Ons
Add-ons include SSL certificates, website builder tools, additional security features, etc. If necessary, you can add these features to your hosting plan.
However, note that they can increase your hosting expenses.
Renewals
Most web hosting providers have discounts for new website owners or yearly renewals. Some even provide discounts for the first year of hosting.
Still, it would help if you considered the renewal costs when choosing a hosting provider.
If you're not sure you've made the right decision, avoid annual renewals so that you can change hosting providers after one or a few months of usage.
Upgrades
As your business grows, you should consider upgrading your hosting plan.
If you opt for shared hosting and your website receives a lot of traffic, you might need a new hosting plan to accommodate the increased traffic and storage needs.
However, since upgrades aren't free or cheaper than the initial option, they can increase your hosting costs significantly; keep that in mind.
Step 3: Plan Your Budget Carefully
Once you've successfully categorized your web hosting expenses, you should plan your budget carefully.
I suggest setting a budget for each cost category and ensuring you have enough money for all regularly.
Additionally, when choosing the right hosting provider or plan, don't automatically assume the most expensive one is the right fit. The same goes for cheap hosting providers or plans for beginners.
You should also consider other important features like customer support, reliability, and safety.
Extra Tip: Keep a Close Eye on Your Expenses
Once you've picked a hosting provider and planned your budget carefully, you shouldn't relax. On the contrary, you must track your costs regularly.
That way, you can easily identify overspending and make necessary adjustments.
Overall, categorizing web hosting expenses can seem daunting. However, it's simple if you follow my advice.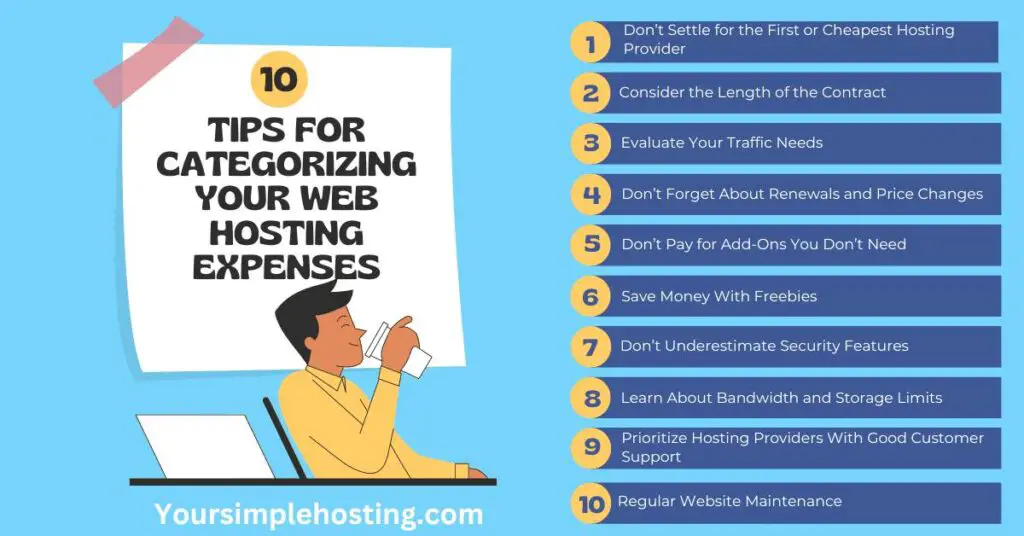 10 Additional Tips for Categorizing Your Web Hosting Expenses
The following tips can help you categorize your web hosting costs more effectively.
1. Don't Settle for the First or Cheapest Hosting Provider
When hunting a hosting provider, research thoroughly and compare your options.
For instance, compare the pricing and features of different hosting providers. Also, read reviews from other website owners to determine if a hosting provider is reliable and has good customer support.
Choosing the wrong hosting provider can increase your costs over time.
2. Consider the Length of the Contract
Some hosting providers offer discounts for longer contract lengths. However, before you pick a long-term contract with the biggest discount, consider if you will need upgrades or changes in the future.
3. Evaluate Your Traffic Needs
Your website traffic can greatly impact your hosting expenses. If you expect high traffic, I suggest investing in a more expensive hosting plan or upgrading as your traffic grows.
4. Don't Forget About Renewals and Price Changes
Sometimes, hosting providers increase their prices or modify their pricing structure over time without notifying their users
Hence, consider the potential impact of these changes on your hosting costs when planning your budget.
5. Don't Pay for Add-Ons You Don't Need
Sometimes, add-ons can improve your website's functionality. However, they can also increase your hosting expenses.
Stay aware of the add-ons the hosting provider offers and determine if you need all at the very beginning of your business.
6. Save Money With Freebies
Many cost-effective solutions, such as free website templates, free marketing tools, and open-source software, can save you money.
Consider using these solutions when starting a website and planning your budget to reduce initial costs.
7. Don't Underestimate Security Features
Website security matters, so invest in a hosting provider with robust security features, such as SSL certificates, regular backups, and firewall protection.
These things will keep your website secure and put users at ease.
8. Learn About Bandwidth and Storage Limits
Each hosting plan comes with bandwidth and storage limits, and exceeding these limits can increase your web hosting expenses.
Ensure you understand your plan's limits and plan your website accordingly to avoid additional expenses in the future.
I've written 2 articles that will help you identify how much storage and bandwidth you require.
How Much Space Does a Website Need?
How Much Bandwidth Do I Need for Web Hosting?
9. Prioritize Hosting Providers With Good Customer Support
Responsive and friendly customer support can make or break your business.
Therefore, choose a hosting provider that offers 24/7 support through various channels, such as phone, email, and live chat.
10. Regular Website Maintenance
Owning a website isn't a walk in the park. On the contrary, it's a demanding, ongoing process—you should plan for maintenance tasks like plugins, software, and content updates.
Unless you execute these important tasks yourself, they will increase your expenses.
Conclusion
Overall, owning a website isn't cheap and straightforward. Therefore, you should categorize your hosting expenses to reduce your costs and maximize profits.
However, before you categorize your hosting expenses, you should choose a good web hosting provider and select a hosting plan that meets your needs and fits your budget.
Read my next to help identify the best hosting provider for you. Web Hosting Costs: Why Is It So Expensive?
I hope this article can help you sort your hosting costs and run a successful website.