When it comes to browsing the Internet, the most synonymous search engine with the web is Google. 
Therefore, when it comes to creating your own website and registering a domain name, it makes sense to use Google for this service. 
If you want to achieve simple domain name registration requirements, Google Domains is the ideal choice. That said, you should keep in mind that the pricing tends to be slightly higher in comparison to the products you're receiving, especially when compared to other services. 
Moreover, if you're looking to purchase web hosting services, this isn't offered by Google Domains. 
With this in mind, this guide will explore everything you need to know about Google Domains and whether or not it is a suitable domain registrar for you.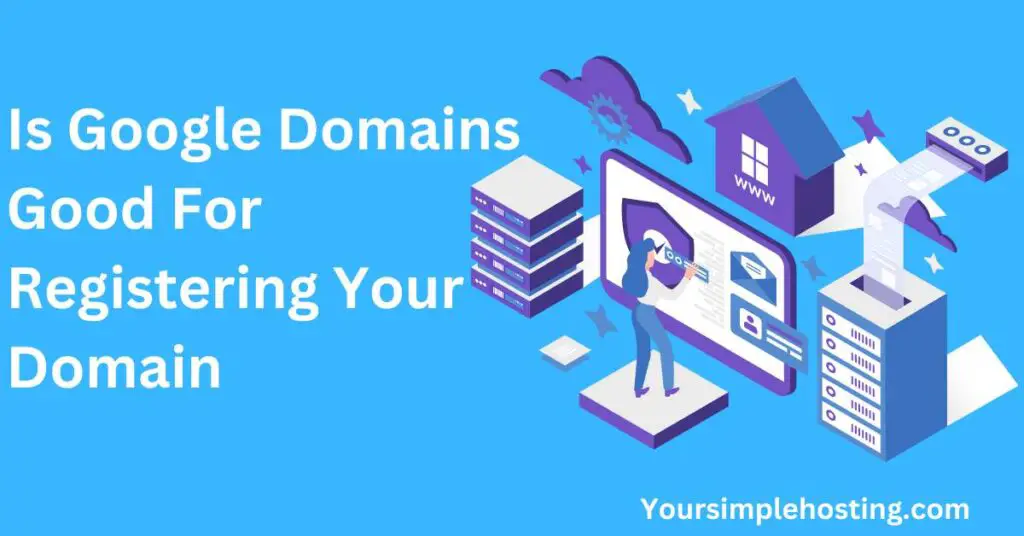 Table of Contents
What Is Google Domains?
Domain names are important for businesses large and small. They are how customers can find your website. Plus, they are a reflection of your brand, too. 
As you may have guessed, Google Domains is owned and operated by Google. Google rolled out the service at the beginning of 2014. 
The domain came out of beta testing in March 2022, offering over 300 popular and new top-level domain extensions (TLDs). 
To access Google Domain's services, users are required to have a Google account.
Here, you can connect it with other Google services for an enhanced workflow. For instance, Google Ads or Google Workspace). 
Unlike some other domain registrars, Google Domains only offers customers domain hosting services. Therefore, it doesn't sell any web hosting services. Google does, however, provide a service called Google Cloud Platform that may suit your business requirements.
Below, we will take a deeper look at what makes Google Domains stand out and the areas that could be improved. 
Advantages Of Google Domains
Like any other Google service, Google Domains enables you to:
The styling of the dashboard matches Google's aesthetic. 
Your existing Google user account can be used. 
These two factors offer two main advantages, these include:
You don't have to create an account – You are almost guaranteed to have a Google account; therefore, you don't have to worry about going through the long set-up process. Just make sure to use a strong password and two-factor authentication to keep your account locked. 
Easy to use – You'll be able to understand the interface relatively quickly, thanks to its similar design to preexisting tools, such as Google Analytics. 
Two-Step Authentication To Protect Your Account
It is important to protect your account since malicious actors will try everything they can to get their hands on your domain name. 
It's easy to protect your domain with Google Domains since they provide you with access to Google 2-Step Verification options. 
Here, you can use smartphone apps, text messages, physical keys, and much more to keep your domain safe and secure. 
Free Privacy Protection
Once you have registered your domain name, you'll be provided with your own personal information, such as phone number and address.
As a default, this information can be publicly available in the Whois registry, exposing you to spam or other malicious/ annoying activity. 
However, you don't have to worry about this with privacy protection. Instead, your information is hidden behind generic privacy information. Please read our article to learn more about domain protection.
Most domain registrars charge for this type of privacy protection – which can be as much as $10 per year. 
Instead, this is a free service that is given to you as part of your purchase. 
Disadvantages
Cheaper Alternatives
While Google Domains provides you with competitive and transparent pricing, you can still find cheaper alternatives elsewhere – it depends largely on the type of extension. 
For instance, Google Domains is one of the most affordable options if you're looking for .org domains, but are pricey for .io domains. 
Below, we have compared some of the most popular domains against Google Domains:
.org domains:
GoDaddy – $20.99 ($9.99 first year)
Namecheap – $12.98 ($9.98 first year)
Domain.com – $14.99
Google Domains – $12
.io domains:
GoDaddy – $59.99 ($44.99 first year)
Namecheap – $32.88 ($25.88 first year)
Domain.com – $49.99
Google Domains – $60
.com domains:
GoDaddy – $17.99 ($11.99 first year)
Namecheap – $10.98 ($8.88 first year)
Domain.com – $9.99 (Heavy upsell for privacy protection)
Google Domains – $12
I recommend you shop around to see which promotions and discounts GoDaddy, Namecheap, and Domain.com are running.
Should You Use Google Domains?
If you're looking for a domain registrar that you can count on, then you can't go wrong with Google Domains.
With this service, you can rest assured that your nameservers will always be up and running since these are the hardware that runs Google's infrastructure. 
Even though the pricing may seem higher than some other domain registrars – especially since Google doesn't offer their customers any type of promotional package – Google's reputation and name are enough to compensate for this high price. 
In addition to this, you'll receive Whois privacy, as well as a range of other add-on features. This combines to create a sweet enough deal. 
That said, if you're a small business or individuals on a limited budget, then these additional expenses may not be justifiable. 
Although, if you're looking for something that simplifies the entire process of putting your app or website on hosting platforms such as Google Cloud Platform or Google Apps Engine – then Google Domains is an attractive option. 
Does Google Domains Offer Hosting?
With Google Sites, you can build a site. Likewise, on the Google Cloud Platform, you can go crazy and build a massive application. However, Google Domains, as a service, doesn't offer hosting. 
Conclusion
Google is synonymous with all things Internet; therefore, it is only natural to consider using the platform to create your domain. 
While it may be more expensive than some other options available, it is certainly worth it and will help kick-start your website. 
Hopefully, this guide has informed you on everything you need to know about Google Domains.